Commentary
Brek Shea is NEXT
FC Dallas/USA lefty midfielder is the next big thing in soccer
Updated:
December 29, 2011, 3:06 PM ET
By
Luke Cyphers
| ESPN The Magazine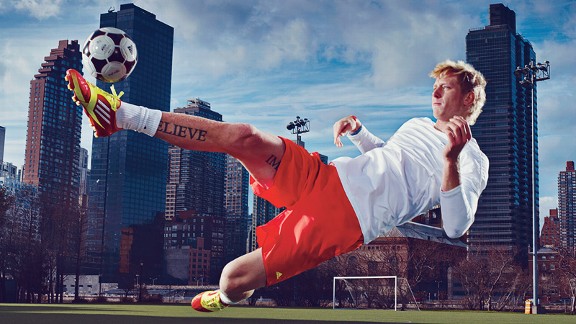 Finlay MackayUnder U.S. men's coach Jurgen Klinsmann, Shea has created a team-leading 9 scoring chances in 7 matches.

This story appears in the Jan. 9, 2012 NEXT issue of ESPN The Magazine.
BREK SHEA IS A LEFTY, and true to the stereotype he's a bit different. "He's not one of those guys who walks a straight line," says Schellas Hyndman, his FC Dallas coach. "There aren't people out there who can imitate him."
Just one glance at the 21-year-old midfielder shows he is indeed unique: great size (6'3", 188), lightning quickness and a shock of ever-changing platinum hair. Shea's stats stand out too. Without taking a single penalty or free kick, he led Dallas with 11 goals last season, earning a league MVP nomination and a starting wing spot on the U.S. national team. But Shea's less obvious assets -- a deft first touch, a killer cutback move and an accurate cross -- are what make him such an exciting prospect.
"

In addition to scoring goals, he has a way of effortlessly gliding past defenders and helping the players around him. It's fun to play alongside Brek, and it's going to be a pleasure to watch just how good he will become. The kid has the potential to be a game changer.

"

-- Jozy Altidore, NEXT class of 2007
In College Station, Texas, a kid with Shea's size and speed usually handles pigskins. Shea did play QB and wide receiver through ninth grade, but he loved soccer, honing his touch in six-a-side adult leagues. "Most of them were Latin guys," he says. "We played on really bad dirt pitches, sometimes with just cones for goals."
Those bumpy fields are a world away from the Arsenal training grounds near London, where, hooked up by U.S. coach Jurgen Klinsmann, Shea recently spent a month practicing with the Premier League power. "Just seeing how quick Andrey Arshavin plays in small-sided games," Shea says, "or how smooth Robin van Persie is on his runs on the big pitch is really unbelievable."
That exposure sets the stage for Shea to play in Europe, likely sooner than later. For now, he'll key the Dallas attack and probably lead the U.S. U-23 team at Olympic qualifying in March. "We learn from his work ethic and his habits," says U-23 defender Zarek Valentin. "We look up to him."
And his hair? It's no accident that Shea's national-team roommate, 19-year-old striker Juan Agudelo, recently introduced his own Brekish Mohawk "We're just trying to start a trend," Agudelo says. The way Shea's going right now, you can see why.
Luke Cyphers is a senior writer for ESPN The Magazine. Follow The Mag on Twitter, @ESPNmag, and like us on Facebook.
Luke Cyphers is a former senior writer for ESPN The Magazine.
SPONSORED HEADLINES
ESPN TOP HEADLINES
MOST SENT STORIES ON ESPN.COM
ESPN The Magazine: January 9, 2012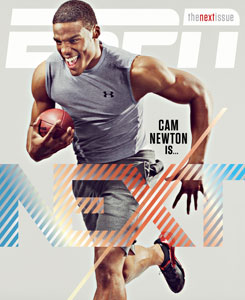 THE MAG'S NEXT ATHLETES

FEATURES

COLUMNS

MORE FROM THE ISSUE