More up-and-coming NEXT athletes
A glimpse of rising talent in six sports
Updated:
December 27, 2011, 11:15 PM ET
ESPN The Magazine
This story appears in the Jan. 9, 2012 NEXT issue of ESPN The Magazine.
Snowboarding: Jess Kimura
Age: 25 | Hometown: Vernon, British Columbia
Fame Claim: Named
Snowboarder
magazine's Ms. Superpark Standout 2010
Before landing her first major sponsorship deal with Nike last year, Jess Kimura paid the bills doing masonry work. Not the girliest of jobs, but Kimura isn't famous for her softer side. She's tattooed and foul-mouthed and spent last winter living out of her station wagon. But her aggressive rail riding and willingness to take a slam are changing the notion of what women can do on a snowboard. "That's been a theme in my life, finding something people think girls can't do and showing them we can," Kimura says. She showed plenty of people what she could do in Think Thank's 2010 video "Right Brain Left Brain." Danger Pony, as some fans call her, bulldozes through scenes, sliding massive concrete ledges and showing off in a slam segment that made her a must-see DVD star. Now she has her sights set on rougher terrain. "When I said I wanted to ride in the backcountry, everyone was like, 'You ride rails. You can't ride backcountry,'" she says. "I'm gonna show 'em what's up." -- By Alyssa Roenigk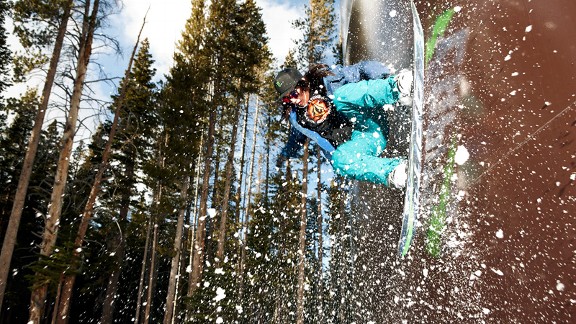 Ture Lillegraven"More and more girls are amping it up. We want to show the public we can take it to the highest level. And Jess is doing that." -Hannah Teter, NEXT Class of 2003
MMA: Phil "Mr. Wonderful" Davis
Age: 27 | Hometown: Harrisburg, Pa.
Fame Claim: Unbeaten in UFC light heavyweight division; in 2010, submitted MMA stalwart Tim Boetsch with a one-arm move he invented
Phil Davis could be the perfect foil to UFC light heavyweight champion Jon Jones, who cleared out the division in 2011. Like Jones, the 9-0 Davis is a sculpted freak, with an upper body normally reserved for comic books. But Davis' strength, unlike Jones', extends to his legs, which he uses to post opponents along the fence or staple them to the mat. With those skills, he wrecked challengers in the 205-pound division, including Antonio Rogerio Nogueira and Brian Stann, and he's the only blemish on top-10 contender Alexander Gustafsson's record. Thanks to his signature pink trunks and not-so-subtle nickname -- he took "Mr. Wonderful" from a pet cat he owned as a Penn State wrestler -- Davis is not likely to be overlooked. "I don't think anybody started this sport just to be a No. 2 or a No. 3," Davis says. "I want to have the belt." -- By Chuck Mindenhall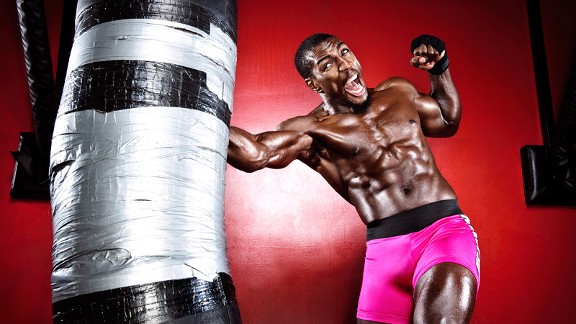 Dustin Snipes"He's a tough athlete, great for our sport. I think he's as good as the hype. He just hasn't had the opportunity to prove it yet." -- Jon Jones, NEXT Class of 2010
Golf: Yani Tseng
Age: 22 | Hometown: Orlando, Fla.
Fame Claim: Youngest golfer in history, male or female, to win five major championships
Yani Tseng can't stop smiling. She really can't. Her face is just that way, permanently dimpled with a little twinkle in her deep brown eyes. And what's to frown about? Her on-course blend of power and precision has carried her to 12 LPGA tournament wins, seven in 2011 alone. Her tour-leading $2.92 million in earnings this year was almost twice that of the nearest player. In fact, her only real competitors are the names in the record books. If she wins one of the next two U.S. Opens, she'll break Tiger Woods' record for the youngest golfer to complete a career grand slam. See the smile. Be the smile. Because by all measures other than renown, Yani Tseng is the best golfer in the world. -- By Sarah Turcotte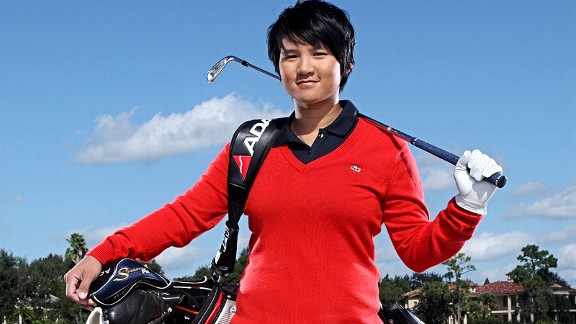 Olugbenro Ogunsemore"For someone to dominate in golf is more impressive than in any other sport. You rely only on yourself. That's why what Yani has done seems almost impossible. It seems like Yani is going to win every single week." -Sergio Garcia, NEXT Class of 2000
Tennis: Anastasia Pavlyuchenkova
Age: 20 | Hometown: Samara, Russia
Fame Claim: Ranked No. 16 in the world, she already has three WTA titles to her name
On a windy afternoon at Flushing Meadows in September, Nastia Pavlyuchenkova showed the world why she is Russia's next best chance to win a grand slam. After losing her first set to 2010 French Open champ Francesca Schiavone, Pavlyuchenkova battled back to a 5-7, 6-3, 6-4 victory, topping off the match with a blistering forehand winner to break the Italian in the third set. The U.S. Open win not only put Pavlyuchenkova into her second grand slam quarterfinal of 2011, a monumental achievement for any up-and-comer, it avenged her loss to Schiavone in her first -- at Roland Garros in May. But it's those deadly ground strokes that have tennis fans talking. At 5'10", Pavlyuchenkova has the size and strength to push pace from the backcourt and pose a serious threat to the top 10 contenders in the WTA. After a greedy junior career in which she won practically everything, including the 2006 Australian and U.S. Opens and the 2007 Australian Open, Pavlyuchenkova had trouble adjusting to the pro circuit. "I had to learn how to lose," she says. "And then I had to learn how to learn from my losses." Based on her play in 2011, Pavlyuchenkova is a quick study. -- By Lindsay Berra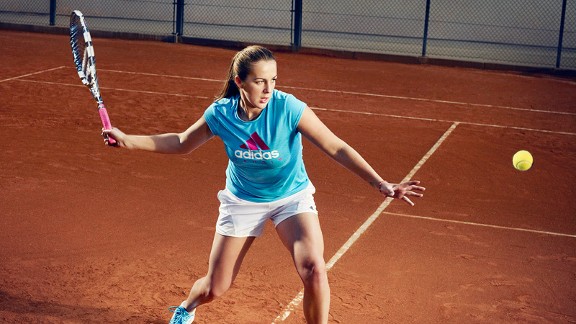 Alan Clarke"Nastia's biggest strengths are her backhand and her serve. But mostly, she's tough mentally; she believes she can win the match no matter who is across the net." -- Melanie Oudin, NEXT class of 2009
Gymnastics: Jordyn Wieber
Age: 16 | Hometown: DeWitt, Mich.
Fame Claim: 2011 world all-around gymnastics champion
Yes, Jordyn Wieber knows about the curse. No, she doesn't believe in it. During the past four decades, only one reigning world all-around champion -- Lilia Podkopayeva of Ukraine -- has followed up with an Olympic all-around title. Experts think Wieber can buck the trend. "She has everything going for her," says two-time world all-around champ Shannon Miller. "Age, skill level, confidence, leadership, and the judges know what to expect from her." What they expect are some of the most daunting moves in the sport. In the post-10-point-scale world of gymnastics, difficulty reigns. The scoring system allows athletes who attempt extremely challenging routines the luxury of making mistakes. Thing is, Wieber rarely trips up, meaning the risks she takes usually pay off. "Winning worlds gives me confidence leading up to next year," she says. Curse or no curse. -- By Alyssa Roenigk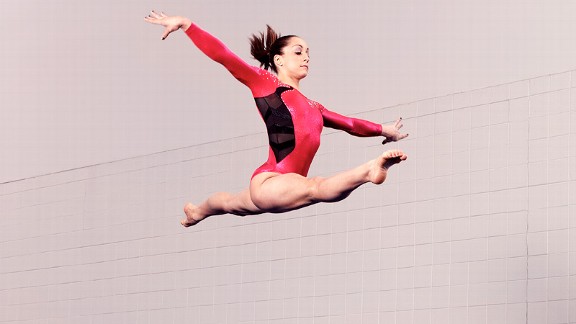 Nathan Perkel"Jordyn has guts of steel. Watching her compete and lead the world championships team proved to everyone she will be the one to beat next year." -- Shawn Johnson, NEXT class of 2008
NASCAR: Darrell Wallace Jr.
Age: 18 | Hometown: Mobile, Ala.
Fame Claim: 2010 K&N Pro Series East Rookie of the Year
Darrell Wallace Jr. just may have the greatest NASCAR name ever -- a legends mash-up so amazing, his crew started selling T-shirts: Darrell Not Waltrip, Wallace Not Rusty, Junior Not Dale. So far, the 18-year-old Alabama native has proved worthy of those names. In two seasons in NASCAR's K&N Pro Series East (think Class-A baseball), Wallace posted five wins in 22 starts and became the series' youngest, and first black, winner. In 2012, he'll run six Nationwide Series events for Joe Gibbs Racing with an eye on being the first black regular in a national NASCAR series since Bill Lester's 2002-07 stint in the Truck Series. "I think it's important to show kids that they can do this no matter what their background is," Wallace says. "But when I'm on the racetrack, I'm not thinking about making history; I'm thinking about winning trophies." Not just any trophies. Trophies engraved with the coolest name ever. -- By Ryan McGee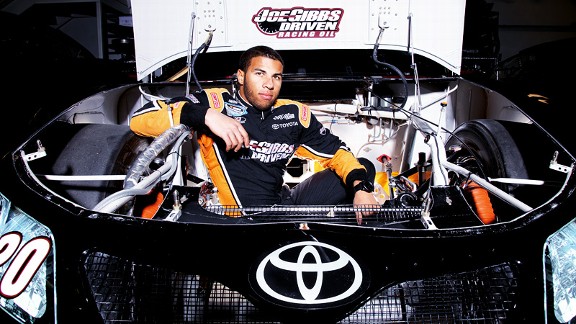 Kareem Black"You race with Darrell and it doesn't take long to realize he's legit. And today, when everyone's competing to impress sponsors, it's also about how you handle yourself off the track. He's the total package." -- Joey Logano, NEXT class of 2009
Follow The Mag on Twitter, @ESPNmag, and like us on Facebook.
ESPN The Magazine: January 9, 2012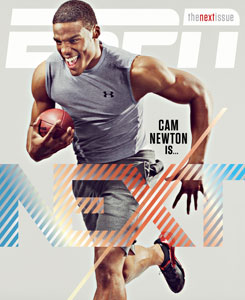 THE MAG'S NEXT ATHLETES

FEATURES

COLUMNS

MORE FROM THE ISSUE
MOST SENT STORIES ON ESPN.COM