October, 3, 2012
10/03/12
11:17
AM ET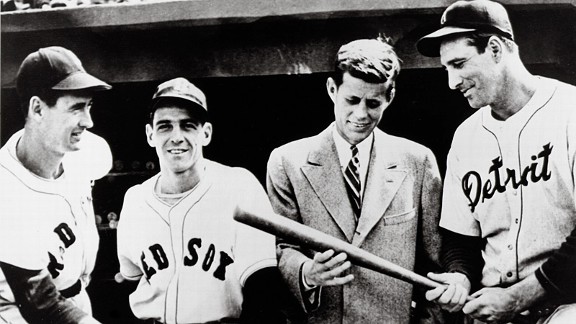 AP Photo/Courtesy of John F. Kennedy Presidential Library)John F. Kennedy looks at a bat with baseball greats, from left, Ted Williams, Eddie Pellagrini and Hank Greenberg in this photo dated April 1946.
At the first of the three presidential debates, Barack Obama and his Republican challenger, Mitt Romney, on Wednesday will be proving something that John F. Kennedy learned more than a half century ago: Presidential politics is a contact sport.
Last month, Kennedy's presidential library released a trove of his tapes to commemorate the release of a two-CD book called "Listening In: The Secret White House Recordings of John F. Kennedy." And one of them, recorded on Jan. 5, 1960, showed Kennedy recognizing how equally brutal sports and politics can be.
The tape was made at a dinner party Kennedy hosted with his wife, Jackie, at their Georgetown mansion three days after the U.S. senator from Massachusetts announced his run for the Democratic Party nomination.

Among the guests was legendary newspaper editor Ben Bradlee. When Bradlee mentioned that running for president was as high-octane as politics got, Kennedy, a Harvard graduate, strained for a comparison until he hit on the Harvard-Yale rivalry. "It's stimulating because & life is a struggle and you're struggling in a tremendous sort of arena," he said. "It's like playing Yale every Saturday, in a sense."
"The president was competitive by nature," says Thomas Putnam, the library's director. "These tapes show that."
The 30-minute tape, which can be heard here, was made on a reel-to-reel recorder by the late Newsweek correspondent James Cannon and discovered in 2008 in the library of Brown University, to which Cannon's family had bequeathed it. Besides showing Kennedy's respect for Yale football, it shows how much of an uphill climb he still thought he had to reach the White House.
Asked by Cannon why he seemed to have so much drive, Kennedy confided that "I'm having the same struggle" as other ambitious Americans, just "in a different sphere." Then he compared himself to the quarterback for the Baltimore Colts.
"Johnny Unitas, he might find it interesting to play in a sandlot team, in front of four people, but he's playing for the world championship," Kennedy said. "I mean, I must say, he must find that very absorbing. I'm not comparing the presidency with that, but I'm just saying that, how could it be more fascinating than to run for president under the obstacles and the hurdles that are before me."
Putnam says the passage shows Kennedy's impatience with the slow pace of politics. "People have observed that he didn't like waiting for his turn," he says. "At that point, he'd already been the youngest person elected to Congress and in the Senate for seven years. Another Senate debate for him would have been a yawn. He wanted to debate for the top job."
Indeed, after his history-making debates with Richard Nixon that fall, the 43-year-old became the youngest man ever elected president.
"

Christ, who are we sending over there? Girls?

"

-- President John F. Kennedy on the U.S. hockey team
There are a few instances of Kennedy following football as president, although not with nearly the famous passion Nixon had for the game. In 1961, Kennedy took a call on his private line from Vince Lombardi wanting to know whether he could grant Paul Hornung a leave from the Army so the Packer could play in the NFL championship game. Kennedy agreed, and Green Bay beat the Giants 37-0. Then the president called Lombardi to congratulate him on the Packers' 1962 title and begged him to coach Army.
Three years later, however, the tapes show a change in Kennedy's view of sports. According to Putnam, he began to view it through the prism of the Cold War as he was straining to beat the Soviet Union in the space race, fighting a proxy war in Vietnam and guarding against Fidel Castro in Cuba. In that environment, something as minor as a loss by the U.S men's hockey team to Sweden was an intolerable embarrassment.
In this March 1963 conversation, he called a close friend who'd been selected to the 1952 Olympic squad, David L. Hackett, to see what could be done.
"Dave, I noticed in the paper this morning where the Swedish team beat the American hockey team, 17 to 2," he said.
The rest of the conversation went like this:
Hackett: Yeah, I saw that.
JFK: Christ, who are we sending over there? Girls?
Hackett: They haven't won a game.
JFK: I know it. I mean, who got them up?
Hackett: I don't know. I can check into it.
JFK: God, we've got some pretty good hockey players, haven't we?
Hackett: Yeah. Well, I think. Yeah.
JFK: I suppose they are all playing on their college teams, are they, or something? I'd like to find out whether it was done ... under what ... who sort of sponsors it and what kind of players they've got, and I think it's a disgrace to have a team that's 17 to 2. That's about as bad as I've ever heard, isn't it?
Hackett: And they have been beaten by everybody by a score almost equal to that.
JFK: So obviously, we shouldn't send a team unless we send a good one. Will you find out about it and let me know?
Hackett: I'll find out about it and let you know.
To see more from the John F. Kennedy Presidential Library's online archives, click here
September, 28, 2012
09/28/12
7:01
PM ET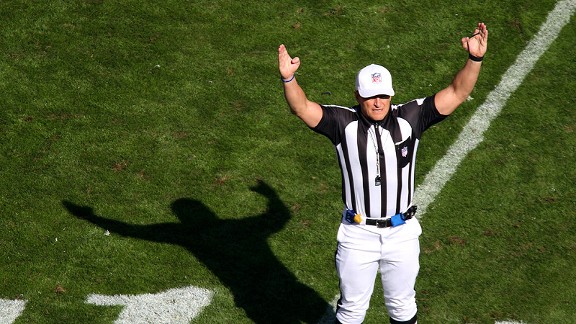 David Drapkin/Getty ImagesReferee Ed Hochuli tried to keep his colleagues in the know during the NFL lockout.
When the NFL's official referees take the field Sunday, they'll be out of practice, but they won't be rusty. And for that, you can thank Ed Hochuli, the 61-year-old Phoenix lawyer and veteran referee who will be helming the Bengals-Jaguars game. During the lockout, No. 85 kept his fellow zebras sharp with weekly tests designed to get them ready to replace the replacements.
In an emailed agenda for a conference call among refs that was held on Sept. 11, Hochuli asked his colleagues for a moment of silence for "those innocent souls and the heroes who lost their lives 11 years ago."

Then Eddie Muscles got right down to business.
"We are not going to point out mistakes," No. 85 wrote. "We only have an hour -- but as always, there are things to learn from this week's games."
He went on to list: "Game clock," "Quarter change," and "2 minute warning."
One ref who calls the tests "incredibly time-consuming" adds: "Eddie's just that kind of person. He's a successful lawyer and a perfectionist. He hates it when things aren't done right."
The File obtained a test Hochuli sent out July 2, not long after the lockout began, and although the format is familiar to anyone who has ever applied for a job in stripes, it features plenty of NFL-style scenarios.
Take the very first question, which nearly sent us running for the exits: Team B blocks Team A's punt, but commits a foul at the 3-yard line as a Team B blocker picks up the ball and runs it to the 50-yard line, at which point he fumbles into the hands of an A blocker. (By the way, that's a simplified version.)
Quick, what's the call?
It's B-1-10-B1 ½, Exception 3.
Translation: The ball gets moved to the point of the infraction, which in this case is the 3-yard line, and Team B is penalized half the distance to the goal for its foul. As such, it becomes Team B's ball at first-and-10 on the 1 ½-yard line. "Exception Three" deals with change of possession with a foul.
The rest of the test can be found here and in the box inset in this story. See if you can get any of the other 49 questions right -- let alone on a field with 80,000 fans screaming at you and a worldwide TV audience of millions tearing their hair out because you single-handedly moved the line.
The answers are here and in the box to the right.
September, 18, 2012
09/18/12
4:17
PM ET
The San Diego Chargers held a moving ceremony on Sunday to honor Junior Seau at Qualcomm Stadium. As the Hall of Famer's family watched a tribute to his life on the JumboTron, Chargers who were wearing his No. 55 on their helmets choked back tears. But San Diego fans almost didn't get to see the service on TV. Just hours before a Friday deadline, roughly two thousand seats to the game still hadn't been sold, leaving San Diego in technical violation of the NFL's blackout rule.
The rule requires teams to sell all but their most expensive seats 72 hours prior to kickoff for games to appear on TV in a team's market. But even with a last-minute waiver that let the Chargers sell tickets up to 1 p.m. on Friday, things looked bleak. Only a last-minute PR blitz put them over the top.

That allowed the NFL to avoid the unseemly spectacle of having to explain why, in the midst of a class action suit over its concussion policy, it was preventing TV viewers from watching a tribute to a man who may have suffered as many as 1,500 head injuries on the way to the Hall of Fame.
But it hasn't stopped a growing chorus of critics from complaining that the blackout rule -- enacted before the Internet and even (gasp!) ESPN -- is an anachronism that's hammering consumers.
The NFL insists that the rule "is essential to promoting live attendance and thus improve the stadium experience." But in February, five U.S. senators wrote this letter to Federal Communications Commission Secretary Marlene Dortch, calling the rule a "relic of a different time." They also pointed out that in this economy, rising ticket prices "have made attending a football game an unaffordable luxury for many fans."
And recently, FCC commissioner Robert McDowell issued a statement saying: "We live in a world with not only local broadcast stations, but also cable, satellite, the Internet and wireless, and where television and mercheadizing revenues exceed ticket sales. It is appropriate for us to re-examine the rule in light of marketplace changes."
In a concession for this season, NFL commissioner Roger Goodell tweaked the league's policy to allow teams to reduce their sales threshold to as low as 85 percent -- provided they kicked more money back to their opponent.
But things are as chaotic as ever. Tampa Bay dropped its blackout threshold to 85 percent of Raymond James Stadium's capacity and still couldn't sell enough tickets by Sept. 9 to stop a local TV embargo of its opening day game against division rival Carolina. It was the third straight season that occurred in Tampa, and the 14th time in the Bucs' past 16 home games. Things will get worse around the league when the weather gets colder and losses start mounting.
On Capitol Hill, an organization called the Sports Fans Coalition is lobbying the FCC to revoke the rule, which was adopted in 1973 as an amendment to the Sports Broadcasting Act. (Blackouts date back to the 1950s, when the NFL successfully defended itself in an antitrust lawsuit by arguing that they were needed to keep stadiums filled at game time.)
Last week, the group's executive director, Brian Frederick, brought a report from nine economists to the agency in the hopes of swaying the agency's voting commissioners. The economists argue that blackouts "have little or no effect on ticket sales" and "harm consumers without producing a significant financial benefit to teams."
But the most important testimonials aren't from economists or politicians. They're from the hundreds of fans who took the FCC up on its offer to post public comments.
[+] Enlarge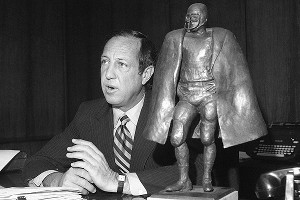 AP Photo/Anthony CameranoNational Football League Commissioner Pete Rozelle speaks in his office in December 1972 after saying no to President Richard Nixon's request to waive the NFL blackout rule on home-game telecasts.
Here is what you had to say, America, about why the rule is unfair:
Disabilities: Some of the most poignant letters came from fans who complain that they are being penalized for growing old with their teams. Bills fan Jane O'Bayle of West Seneca, N.Y., handwrote this letter in which she says, "My husband and I are in our 80s and almost all the enjoyment we get out of life is to watch sports on TV … I hope you can help people like us." Echoing the comment, Jane Beaudet of Buffalo writes: "There are many people who are shut-ins and elderly who would be very grateful to be able to see all of the games." Adds military veteran Kenneth Agabayani: "As a disabled Marine living off a limited medical disability income, there is no way I can afford the tickets nor the physical exhaustion to weave through thousands of other spectators in order to reach assigned seating."
Blackmail: Plenty of fans resent the fact they're being pressured to pack stadiums that were built with public financing. Dennis Brickner of Tiffin, Ohio, says, "As a taxpayer, I am incensed that -- while the NFL has benefited time and again from the public largesse in the form of sin and other types of taxes for the construction of stadiums -- they somehow think they can then deny some of those who helped to finance their corporate welfare."
"San Diego residents, like the rest of the country, have economic issues to deal with that do not allow all of us to fork out over $600 to take our family to a game," Troy Wallace complains. "We are also at the mercy of owners that are using the team as leverage against the citizens in order to have a stadium built for them at our expense."
Putting an even finer point on it, this fan adds: "It's about time that the gun is pulled from fans heads telling them if you don't sell out you don't get to watch your team."
Loyalty: More than one writer suggests that the NFL is alienating a new generation of fans. "My father took me to Charger games in the 70's as a season ticket holder," writes Scott Albert of San Diego. "My son and I cannot watch the Chargers on TV when the games are blacked out. I have earned the right to not be blacked out after 35 years of family support to the Chargers organization. My son is losing interest and we may lose a string of dedicated family fans."
DIRECTV: "Sunday Ticket" buyers point out that they're getting doubly penalized, since they're paying extra for the privilege of getting blacked out. "My east coast team came to the west coast to play and I live 60 miles from the nearest nfl stadium which unfortunately is inside the 75 mile radius for blackouts," writes Michael E. Olin. "So I pay extra to watch a game that gets blacked out even on direct tv." Chargers season-ticket holder Matt Day suggests a solution: "If they have a blackout, then sell the game on PPV for those that still would wish to order it … Both teams will have an added revenue stream to split, and that is what its all about correct?"
Prices: The economy is also weighing on people's minds. "If my local game is threatened by a blackout, it doesn't make the money magically appear in my wallet so that I can buy tickets," Kenny Tarlov writes. Adds this cost-conscious consumer: "It is not acceptable to discriminate against people who don't have the money to pay $30 for parking, $12 for a beer, and $80 for a nosebleed section seat and to try out the $8 HOT DOGS … This is a joke … what is the point? Let only the rich see the games while the poor have no say in any enjoyment of their (almost guaranteed) tax-subsidized stadium? That's like me paying for a road and not being able to see it/use it."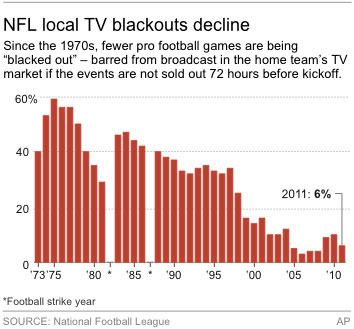 AP Photo
"This isn't 1975," notes NFL fan Tracy W. Reed. "… Most cable subscribers pay upwards of $50 a month for tv … Compare ticket prices of 2012 with prices in 1975 and the number of teams. The policy is crazy."
Size matters: U.S. Rep. Brian Higgins (D-N.Y) of Buffalo has been a leading voice against the blackout rule because he represents one of the NFL's smallest markets and a constituency that's fighting mad about the team's efforts to extract $200 million in public improvements to extend its lease at Ralph Wilson Stadium, which has 6,000 more seats than the average NFL arena.
This fan wryly notes, "When the Chicago Bears sell 61,500 tickets, the game is declared a sellout. When the Buffalo Bills sell 75,000+ tickets, the game is declared a blackout." And this one pointed out that the NFL put Bills fans in a tough spot by making them buy tickets to three home games in December.
This fan suggests only blacking out games that are at 90 percent of capacity. But that wouldn't help the Bills: The team opted out of the NFL's voluntary 85 percent rule because Ralph Wilson Stadium couldn't even meet that threshold in five of its past six blacked-out games. The Bills had the last three games of 2011 blacked out, including a game on Christmas Eve. They've had 17 games blacked out since 2000.
Maybe the best argument for giving the product away is made by this young dad, who writes: "Eventually, my kids will be old enough and I will take them to a game. It would be nice if they knew about the team from watching them, or picked up on my interest in the Bills."
Politics: Why is the FCC even involved in this in the first place? The answer, of course, is that it has control over the nation's airwaves. But as Robert Leibforth of Tampa notes: "I am unaware of any political constituency in the country (aside from the NFL owners, perhaps …) that espouses FCC rules on what professional sports events will be shown on local television … as a legitimate and important government concern … If the NFL owners want to black out local fans as punishment for not filling the stadium seats, then let them do that, don't let them blame our government. It's not a government issue."
January, 31, 2012
01/31/12
11:53
AM ET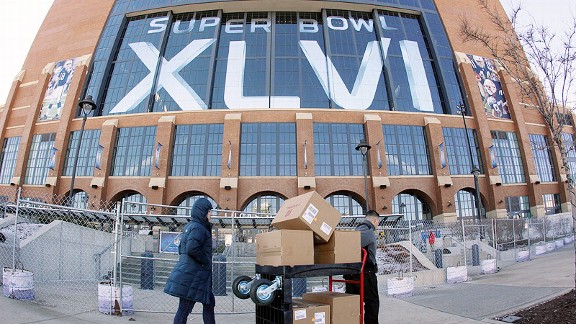 AP Photo/Mark HumphreySupplies are taken to Lucas Oil Stadium as preparations continue for Super Bowl XLVI.
What could ruin a fan's once-in-a-lifetime trip to the Super Bowl more than his team's quarterback fumbling away the game in the final seconds? Try a trip to the emergency room courtesy of food poisoning.
In just a few days, tens of thousands of fans will converge on Lucas Oil Stadium in Indianapolis for Super Bowl XLVI. They'll be eager to cheer for their teams, and as part of their celebration, they likely will fork out a small fortune for all kinds of stadium food -- from pork to pizza to pot roast sandwiches. Like eating out anywhere, fans will do so on a leap of faith that the food being served will be bacteria- and pest-free.
"Outside the Lines'" The File recently acquired 2011 Marion County health department inspection records for the 181 food and beverage outlets inspected at Lucas Oil Stadium and found that 25, or 14 percent, of the locations had critical violations that showed up during routine inspections. A 2010 "Outside the Lines" piece that examined food safety at all professional sports stadiums showed that about 7 percent of the vendors at Lucas Oil Stadium had racked up critical violations -- problems that could lead to illness.

"Any critical violation is a concern to us because it puts the public at risk," said John Althardt, spokesman for the Marion County Public Health Department.
The location at Lucas Oil with the most critical violations, six, was the kitchen for the suites in the upper club, or loge, level. Coming in second was an outlet for Hoosier Snacks, which incurred four critical violations.
Among the violations found in the stadium were expired tomatoes and onions, a chef who didn't wash his hands, a microwave covered in gunk, gnats in an onion bin and hamburger patties toiling in a steamer at lukewarm temperatures -- a situation ripe for bacteria. Keeping food hot enough to stave off bacteria was one of the most common violations found. The other was that outlets weren't using chemical sanitizers at the recommended concentration to kill germs.
"All of the violations get corrected," Althardt said, which might mean that inspectors make repeat visits to make sure chefs and food handlers shape up or face citations and, in very rare cases, get shut down.
Centerplate is the food-service provider for Lucas Oil Stadium. Company spokesman John Hickman declined to answer specific questions about Centerplate's operations and what the company has done to address problems. But the company issued a statement:
"Fans at Lucas Oil Stadium will be happy to know that food and beverage facilities at Lucas Oil Stadium are 12 times more likely to be found free of 'critical' issues compared to an average downtown Indianapolis restaurant. Across the over 180 licensed food locations at Lucas Oil Stadium, there is only an average of 0.16 critical citations per year per location. Across downtown Indianapolis, licensed food vendors are cited for an average of 1.92 critical violations a year, according to an analysis of Health Department records. That rate is 1,200 percent higher than Lucas Oil Stadium."
If the company crunched the same health department numbers as The File, there's a bit of a math problem in the statement. In 2011, 181 licensed locations received one or more routine inspections. Inspectors found a total of 36 critical violations, which breaks down to 0.2 violations per location. For the 378 downtown food and beverage outlets (not including those in Bankers Life Fieldhouse), there were 794 critical violations for a rate of 2.1. That would be about 10 times higher than the Lucas Oil Stadium rate.
More than half -- 51 percent -- of the inspected food outlets in the downtown zone around Lucas Oil Stadium received at least one or more critical marks from inspectors. Twenty-three locations had 10 or more critical problems.
Thinking of splurging on some inland Indianapolis sushi? One of the two worst offenders, Mikado Japanese Restaurant, racked up 27 critical violations for numerous issues, such as dirty countertops, soiled dishes, cutting boards stored in an employee bathroom and even an employee who washed his hands while still wearing his gloves.
Tied for the unsavory honor of first place was an establishment called The Ugly Monkey, which also had 27 critical violations, including raw bacon stored above food ready to serve, soiled pizza racks and alfredo sauce that was getting a little too warm, among others.
Althardt said 27 violations a year is "unusual" and that people need to judge for themselves whether they feel comfortable with a location's track record -- and what they see in person.
Even the prestigious St. Elmo Steak House -- a favorite of Colts quarterback Peyton Manning -- didn't fare so well. It incurred 16 critical violations during routine inspections in 2011, which resulted in $1,600 in fines, according to health department records.
Lucas Oil Stadium first came under scrutiny over food practices in 2009, when a local TV station reported 42 critical food safety violations, including several that cited examples of dead mice or mice droppings near food and meal-preparation surfaces -- even in an oven -- and live mice running through a loge-level kitchen. The head of the county's food safety program at the time said there was a "widespread rodent problem."
That led to more discoveries, as reported by Indianapolis TV station WTHR: "Among the numerous violations, inspectors found employees not washing their hands and unknowledgeable about safe cooking procedures; food considered contaminated and in unsafe condition; and cooked food sitting at improper temperatures which could potentially make customers sick."
The county levied $3,900 in fines, which is rare, but officials took the drastic step only after Centerplate failed to correct the problems. After the TV report aired, however, Centerplate hired an exterminator and set traps. And when ESPN checked on the stadium in 2010, there was only one mouse-related violation.
[+] Enlarge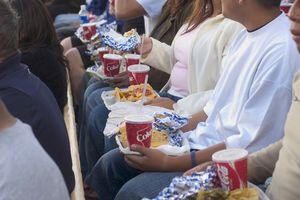 AP/Photo by Richard LuiPart of watching your favorite team play? Enjoying a meal at the stadium.
From 1998 through 2009, there were 24 confirmed foodborne illness outbreaks at restaurants in Indiana, with all sorts of foods -- from tapioca pudding to ground beef to salad -- cited as the culprit behind outbreaks of salmonella, E. coli and norovirus, according to the Centers for Disease Control and Prevention.
Fortunately, those outbreaks are rare.
"We have a very good track record here," Althardt said of Indianapolis and Marion County. "We feel confident people who come here should feel very comfortable and very safe."
Nevertheless, food safety officials don't want their community's marquee event, the Super Bowl, to end up sending fans to the toilet bowl.
Or as Althardt put it: "We don't want anyone leaving Indianapolis with any unwanted souvenirs."
As a result, the department issued a notice for restaurants and other food vendors -- established and temporary -- saying the county would be stepping up inspections during the 11 days surrounding the big game. The department is putting a special focus on outlets that serve large numbers of people in which food is often heated, cooled and reheated, which is a "high-risk procedure where food contamination can easily occur," the county notice says.
All the attention to the Super Bowl should make food service providers extra vigilant, Althardt said. After all, no restaurant wants to be the one that the New York media report made the entire New York Giants team violently ill.
If the findings from these records have your stomach churning, you can either stick with the prepackaged peanuts and bottled soda or use the Marion County Public Health Department's website to look up records (for the most recent inspections) on your own.
March, 16, 2011
03/16/11
6:24
PM ET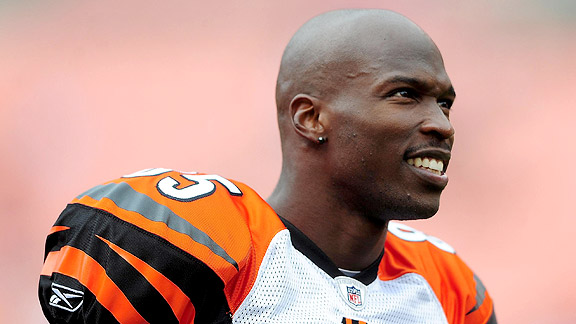 Andrew Weber/US PresswireChad Ochocinco's wardrobe could cost him more than he thought.
A few years ago at the Sundance Film Festival in Park City, Utah, a friend got me into one of those tres chic boutiques overrun with movie stars. I knew before I even looked at a price tag that the stuff on its shelves was too much for me. Only when I eyed a small bracelet that I thought would make a cool present for my wife, however, did I notice something strange. There weren't any cash registers. Not one in the whole place.
That's when I was introduced to the concept of gifting. Yes, folks. If you're a celeb, "gift" can be a verb. Eager designers throw their stuff at high-profile stars, hoping their fashions will get caught by the cameras during a red carpet event or featured on TV.
But you have to hand it to Chad Ochocinco. The wily wideout is taking gifting to a whole new level.
According to the owners of a Cincinnati store called Exclusive Wear, every time Ochocinco stopped by in 2008 and 2009, he acted like it was one of those places without a cash register. He just filled his arms with anything that caught his eye and walked out.
Except Ochocinco isn't an A-list movie star. (He's not even an A-list receiver anymore.) By the time he ran up a bill for $11,717, the owners finally had enough. They hounded him for their money, and when he ignored them they sued. On Tuesday, when Ochocinco failed to show up for a hearing, an Ohio judge entered a default order against him.
So what did the Bengal allegedly grab on his binges? Below is a guide to gifting, Ochocinco style. With the lockout coming, and his bill finally coming due, it's no wonder he's trying out for MLS.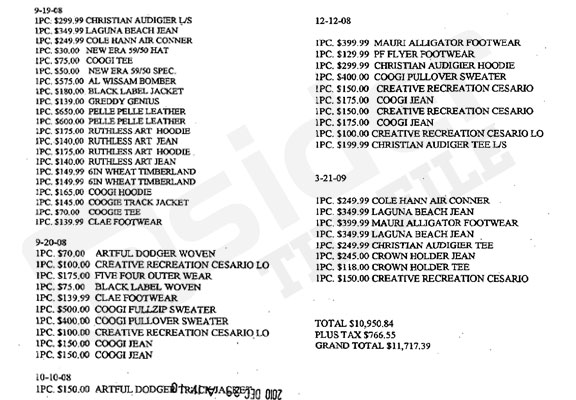 File Under
Muhammad Ali: Every so often, you're reminded what being heavyweight champion of the world used to mean, and what a great champ can still do. In February, Muhammad Ali sent a letter to Iran's supreme leader, Ayatollah Ali Khamenei, asking for the release of two American hikers who have been held on spy charges. This copy of the letter, provided to the File on Wednesday by the Muhammad Ali Center, shows why Ali is often called the world's most influential Muslim. "Please show the world the compassion I know you have in your heart," he writes. "Allah is most merciful. I remain your brother in Islam, always."
Barry Bonds: Want to play the home game version of the Barry Bonds trial? You can start by filling out your very own jury questionnaire, or at least the one that prosecutors propose using. This version, submitted to the federal court judge presiding over the case for approval, spans 22 pages. Our favorite question comes on page 12. We thank the U.S. Attorney's Office for noticing our steroids coverage.