Category archive:

North Carolina Tar Heels
November, 15, 2010
11/15/10
11:47
AM ET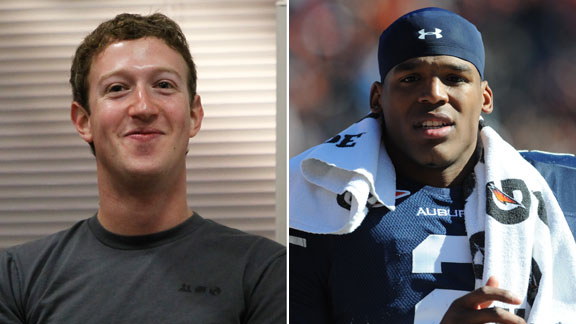 Getty ImagesMark Zuckerberg and Cameron Newton's high-profile scandals share a common bond.

What do the founder of Facebook, Mark Zuckerberg, and Auburn Tigers quarterback Cameron Newton have in common? In the past month, both have been thrust into the headlines for things they did in college that allegedly violated their school's honor codes. And neither seems too shaken up about it.
Honor codes are the redheaded stepchild of college sports, the second cousin of undisclosed violations of team rules. They're talked about solemnly, but for the most part they're vestiges of another era, like when gentlemen settled fights with two fingers of scotch and pistols at 20 paces.
Their seeming irrelevance is captured in the new movie about the rise of Facebook, "The Social Network." In a key scene taken from the public record, two brothers, Tyler and Cameron Winklevoss, get a meeting with Harvard's president in 2004 to complain that Zuckerberg stole their idea for a social networking site, ConnectU, and renamed it "thefacebook.com." When they suggest that Zuckerberg should be brought up on charges of violating Harvard's honor code, however, they're tossed out of the office.
The brothers, who represented the U.S. in rowing at the 2008 Olympics in Beijing, turned to the courts for their revenge. And newly discovered instant messages obtained from Zuckerberg's computer at the time seem to bear out their claim. As one of the messages reads:
FRIEND: so have you decided what you are going to do about the websites?
ZUCK: yea i'm going to [redacted] them
ZUCK: probably in the year
ZUCK: *ear
In an interview with The New Yorker in September, Zuckerberg acknowledged the authenticity of the exchange. So why is he laughing? Because the brothers settled their federal suit two years ago, meaning the new information doesn't change a thing; they can't touch another penny of his fortune.
Now on to Cam Newton.
Last week, Fox Sports reported that Newton was accused of violating the honor code at Florida when he played there. According to Fox, he did it once as a freshman by cheating in class and twice as a sophomore by allegedly turning in two separate papers that he did not write.
What happened? Apparently, nothing. He transferred to tiny Blinn College in Texas before Florida's Student Conduct Committee could get its hands on him.
Asked about it the other day at Auburn, Newton brushed off the charge without directly refuting it. "I don't want to beat a dead horse talking about it," he said. "It's not going to affect me."
Dead horse? How about dead code? Because it seems like one more instance in which academic honor codes are laughed off. Check out these eye-opening stats about the percentage of sophomore-through-senior students who admit engaging in dishonorable conduct:
22 percent Serious test/exam cheating
44 percent Serious written cheating
37 percent Internet plagiarism
43 percent Unauthorized collaboration**
Given these stats, which come from The Center for Academic Integrity at Clemson University and deal with students in the general population, how scared do you think star athletes are about getting caught cheating when they have coaches and athletic directors looking out for them?
"The untold story is that there is a lot of unspoken tension between university conduct officers, athletic directors and coaches," said Scott Lewis, a conduct code writer who heads the National Center for Higher Education Risk Management.
Lewis knows that athletic departments like to keep their dirty laundry to themselves. "Are there programs that keep stuff away from conduct code offices? Yes, of course," he said. "But by the same token, I know athletic directors who really struggle mightily with the relationship."
Lewis divides codes into two types. The first, he says, are the "purely aspirational," which is a nice way of saying they don't have any teeth. (He points to his alma mater, Texas A&M, whose honor code reads: An Aggie does not lie, cheat or steal, or tolerate those who do.) The other is the kind that embeds specific violations in the school's policy manual, and results in real trials and expulsions.
For Lewis, it's simply about teaching morality. "If a student isn't held accountable for a violation, then the question is what's going to happen two years later, when he's faced with another ethical choice?"
Then again, Zuckerberg's message may be the most powerful one of all: violate an honor code now, laugh all the way to the bank later.
---
** Speaking of unauthorized collaboration ...
On Nov. 5, University of North Carolina athletic director Richard Baddour sent this letter to a tutor for the football program who gave "impermissible academic assistance" to Tar Heels players in 2009 and 2010.
The letter informs Jennifer Wiley, a Durham elementary school teacher, that she is banned from having contact with "current or future student-athletes" for the next five years. Wiley's unusual closeness to several football payers she mentored led UNC's academic support program to cancel her contract in 2009. After that, she continued the work on her own.
In a statement to reporters, the 2009 grad insisted that she didn't intend to skirt any rules or do anything wrong.
The most interesting tidbit in this mess comes from the Tar Heels' former academic coordinator, Cynthia Reynolds, who says she started hearing whispers about Wiley in May 2009.
She told The Charlotte Observer and Raleigh News Observer that she thought Wiley had crossed a line, but she was afraid to alert coach Butch Davis to the potential NCAA violation. Why? Because Wiley was also mentoring his son, Drew, as well as driving him around town, and she thought Wiley had become close to his family.
"In my opinion, if I had gone to Coach Davis, my job would have been on the line," Reynolds told the newspapers. As it turns out, she lost her job anyway last summer, and she's filed a federal claim against the school for age discrimination.
So far, 14 UNC players have missed at least one game as a result of the ongoing NCAA probe.
---
Grady Sizemore computer hacker gives cops tips
Give Leah Ayers credit. At least she's a helpful (alleged) computer hacker.
The 19-year-old student from Minnesota's St. Cloud State University came to the attention of police this spring after Los Angeles investigators started looking into the bizarre break-in of a computer belonging to Playboy Playmate Brittany Binger. The hacker stole cell phone photos that Binger stored of her boyfriend, Indians CF Grady Sizemore. Several of the ones of him nearly naked ended up all over the web, and Sizemore had to threaten legal action to get sites to stop posting them.
According to this search warrant affidavit, which was unsealed in Minnesota's Dakota County Court this week, Ayers broke into Binger's Facebook, Twitter and MySpace accounts on six occasions in August 2009. But she wasn't quite as smart a hacker as she thought. When Binger reported the crime, the L.A. cops were able to do a reverse trace and follow the hacker's electronic fingerprints back to an IP account registered to Ayers' father.
When police arrived at the Apple Valley, Minn., address listed on the account, Ayers professed her innocence. But she also gave the cops a startling hacking tip:
"Ms. Ayers stated that Yahoo.com uses security questions to change passwords and one of the questions the site uses is knowing where a person's father was born." As it turned out, Binger's father's birthplace was mentioned on her Facebook page.
This complaint filed in Dakota County District Court on Nov. 9 charges Ayers with two counts of unauthorized computer access. Prosecutors haven't provided a motive for why she allegedly picked Binger, but maybe she'll explain when she arrives in court for a hearing later this month.
October, 12, 2010
10/12/10
10:10
AM ET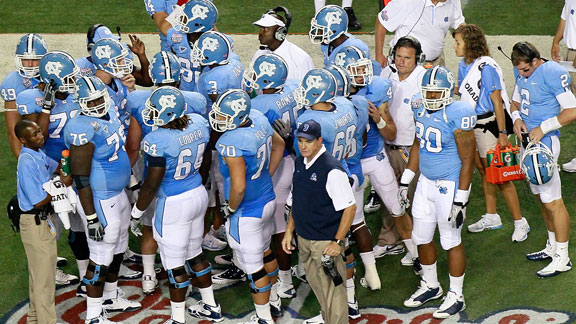 Kevin C. Cox/Getty ImagesButch Davis and the Tar Heels stand to lose a lot more than football games from NCAA sanctions.
The NCAA's ongoing investigation into North Carolina football is getting costly for Butch Davis. On Monday, the organization banned wide receiver Greg Little and defensive end Robert Quinn for accepting benefits from a California agent, and All-ACC defensive tackle Marvin Austin, who bypassed the NFL draft to play this year, was dismissed.
But the worst for the 3-2 Tar Heels may be yet to come.

The File has obtained this contract with UNC's broadcast rights partner, Learfield Communications, which shows the financial hit the university could take if the NCAA decides to level postseason sanctions.
Learfield is a major player in college sports, producing radio game broadcasts and coaches' TV shows for 50 schools around the country, as well as handling Internet and stadium promotions.
None of this comes cheap. Learfield -- like its competitors -- has to pay for the rights to be a university's exclusive broadcast partner, and UNC is its largest client. In the current contract year, the privately held Missouri company is due to pay North Carolina a whopping $6,567,856.
That number goes to $7.5 million by 2021, making it the third highest-paying deal in all of college sports.
One reason Learfield is willing to guarantee so much -- besides UNC's squeaky-clean reputation -- is that it gets to keep 49 percent of whatever it makes after paying the guarantee. And as long as UNC is winning, everything is great. When Roy Williams led the Tar Heels to an NCAA title in 2009, Learfield made a profit from the full range of its offerings, from branded cups to stadium signage and the advertising rates it charged for its broadcasts.
The problem comes in stretches like the one from July 1, 2009 to this June 30. Williams' team was frozen out of the NCAA tournament and Davis' squad lost to Pittsburgh in the Meineke Car Care Bowl. As a result, the university didn't generate enough revenue to top Learfield's guarantee, according to assistant athletic director Rick Steinbacher.
That made expectations particularly high for this fall, when Davis was returning his first recruiting class for its fourth year and fans had visions of a national championship. It's also what makes the burgeoning scandal so potentially costly for UNC.
Only a handful of things allow Learfield to "negotiate in good faith a fair and equitable reduction in the annual rights fee." And one of them is any sanction that causes athletic department revenue to decline by more than 5 percent of the average of the prior three years.
As article 4.06 of the contract explicitly states, Learfield can seek the reduction if UNC's football or basketball teams incur "sanctions [that] prohibit any of them from appearing in conference championship games ... or materially reduces the number of scholarships that can be offered ... " Steinbacher calculates that the athletic department would have to lose about $300,000 for the clause to go into effect.
Earlier this summer, it seemed inconceivable that anyone would be talking about such things. But each day seems to bring new accusations about Davis' former assistant and recruiting director, John Blake, who resigned in September after acknowledging that he had become a "distraction" for the program.
In August, Yahoo! Sports broke the news that while Blake was secretly on the payroll of California agent Gary Wichard, he arranged for Austin, a star defensive tackle, to take at least two trips to a training facility near Wichard's office in California. On Monday, the NCAA also announced that it found Little accepted diamond earrings as well as travel gifts to the Bahamas, Washington, D.C. and Miami, while Quinn accepted two black diamond watches, a pair of matching earrings and accommodations for a trip to Miami.
Also on Monday, Davis took the step of publicly repudiating his former assistant. "I am very sorry that all of this stuff has tainted the football program and, as the head football coach, I take a tremendous amount of responsibility for all the football-related issues," Davis said. "I'm the head guy, OK? I'm sorry it has affected the football program. But I'm going to tell you what I'm more sorry about: I'm sorry that I trusted John Blake."
In an interview with The File, Greg Brown, president and CEO of Learfield, called what he does a "high-risk, low-margin business," and said he is committed to working out whatever arises amicably. "If there are sanctions, we'll just have to figure it out," he said. "I take this very personally. These schools are like our children, and anytime one of my children is struggling, it hurts. These are partnerships."
The risk for UNC is that the contagion in the football program can economically rocket across the university. According to Steinbacher, Learfield's $6.5 million represents about 11 percent of the athletic department's gross revenue and gets deposited in a general fund that is then parceled out to the other programs covered under the contract -- from women's basketball, to tennis, to track and field.
"It's an important source for us," he says.
A.J. Maestas, who advises colleges on striking rights deals through his Chicago-based Navigate Marketing, says it's difficult to speculate on how much sanctions can actually cost a rights partner. "It's a complicated calculation that has to do with TV time and how many national sponsors are involved."
But this is a hard time for Learfield to be generous. Two of its archrivals, ISP and IMG, are merging into a powerhouse that will give them the rights to 82 schools and consolidate the marketplace. Worse, the economic downturn has hit the whole market hard.
"There is no doubt that Learfield is not in an investment mode," says Maestas. "The last two years have been a tough selling climate. It's focused on maximizing revenue from its investments right now. If nothing else, sanctions against UNC would give it leverage."
Who's the most powerful man in UNC sports? With Blake gone, and with calls mounting for Davis to resign and athletic director Dick Baddour on the ropes, it seems like Learfield's Greg Brown might be.
---
File Under ...
ROBERTO ALOMAR DIVORCE GETS UGLY: Getting into the Baseball Hall of Fame may be all about the numbers, but it's going to be hard to walk by Robby Alomar's plaque in Cooperstown without thinking about this lawsuit. As first reported by the New York Post, his wife, Maria Del Pilar Alomar, alleges in this divorce petition that "Roberto Alomar Velasquez, who was infected with the HIV virus, failed to inform [her] that he had such a disease and, in fact, intentionally and with total disregard of [her] emotional and physical well being ... continued to engage in sexual conduct with her." The petition states that Alomar also lied to his wife by telling her that "he had been tested and the blood tests were negative." She claims she learned that was false when she "found pharmaceuticals and information stating that [he] was HIV positive."
BROWNS OWNER WANTS HIS MONEY BACK: Randy Lerner, the billionaire owner of the Cleveland Browns, is suing two sisters who run a New York hedge fund, claiming that they're holding $40 million of his money hostage. According to Forbes, Lerner is claiming in the suit in Delaware Chancery Court that one of the sisters, Michele Paige, threatened to put his money in high-risk securities unless he paid them millions more. No word if those investments were any higher risk than Seneca Wallace.