Schilling tried to stare down officials
July, 10, 2012
07/10/12
10:34
AM ET
Curt Schilling tried to get Rhode Island economic development officials to give him $5 million in tax credits so he could resell them in an 11th-hour bid to save his video game company from collapse and avoid defaulting on a $75 million state loan, emails obtained by The File and court testimony show.
The emails from the Rhode Island Economic Development Corporation reveal that with no cash left in the bank, the former Red Sox pitcher played a high stakes game of chicken to get the desperately-needed tax credits.
"This ceases to become a viable company at 5pm, when the employees are notified that they will not be receiving their paychecks," he wrote on May 15.
[+] Enlarge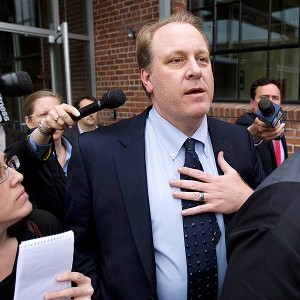 AP Photo/Steven SenneCurt Schilling said he lost more than $50 million but is "not asking for sympathy."
The vice chairman of the company, Tom Zaccagnino, added his own urgency, emailing the same officials to say, "Management is doing its best to hold down the fort and avoid having 300 employees walk out the door," but that without an immediate cash infusion it would fold. The File obtained the emails under a public information request.
A failed rescue meeting between Schilling and Rhode Island Gov. Lincoln Chafee the next day led Schilling to lay off his entire staff of 300 employees as a prelude to declaring bankruptcy.
A hearing on the firm's Chapter 7 petition, which seeks protection from more than a thousand creditors who are owed upward of $150 million, was held Tuesday in Wilmington, Del. At the hearing, the chief executive of 38 Studios, William Thomas, told a U.S. Bankruptcy Court trustee that $5 million in credits from the state could have lured at least three times that in investment capital. "There were several local investors, very high-net-worth people who had parameters around the deal," he testified.
Rhode Island, the biggest creditor, is seeking $115.9 million in principal and interest from the secured loan.
Schilling, who is on leave from a baseball analyst's role at ESPN, moved his 38 Studios from Massachusetts to Rhode Island in 2010, when then-Gov. Donald Carcieri supported giving him a controversial $75 million loan guarantee. Chafee, who unseated Carcieri, made opposing the loan a major campaign issue.
In February, the firm released its first major product, a role-playing action game called Kingdoms of Amalur: Reckoning.

Despite getting generally good reviews on the game, 38 Studios was so strapped for cash that it was privately trying to sell future film tax credits while withholding payments from vendors.
"It was so hard to get information from them," Chafee said in an interview with The Associated Press last week. "Nothing was forthcoming. There were so many mixed messages. Everything kept changing."
But Schilling blames Rhode Island officials for the debacle, saying on his Facebook page that the deal "wasn't about 'DAYS', this was about 'HOURS' and 'MINUTES.' We backed up every ounce of data and email exchanged between the EDC and 38 to INSURE when this BS started to come out, people seriously interested in the truth, will know it. We didn't stonewall anyone, the EDC was trying to bully us and intimidate us on multiple fronts."
Rhode Island officials apparently got their first inkling that trouble was brewing in mid-April. In the emails that were provided, an EDC attorney named David Gilden recounted to Zaccagnino about how "we started the discussion of your financial situation on April 12." The company's problems exploded two weeks later, when it missed its $1.125 million loan payment. Ten days after that, Gilden sent Schilling an email warning him that he had 30 days to make good on the payment.
Pointing out that Schilling "knew [the payment] was due for over a year and a half," Gilden warned: "The EDC is not willing to waive this default." He also demanded that the company allow auditors into its offices the following Monday, May 14.
But at 1:20 a.m. on May 14, Zaccagnino wrote back to say that the company was on life support and would have to shut down if it didn't get certain guarantees by noon.
"We had hoped to have worked through a solution with you this weekend," he messaged. "However, that has not happen. [sic]. As a result, we expect that employees will question the status of their pay. ... Also, we expect that media will likely be outside the company's offices on Monday AM ... " A private equity expert, Zaccagnino pressed for an agreement that he said could "bring in capitol [sic] by the 3 PM wire cut off so that the funds clear in the AM and operations continue." Details of the sought-after agreement were redacted from the emails sent to The File.
As the day wore on, the emails show, state officials were growing increasingly wary about dealing with 38 Studios any further. At 6:25 p.m., Gilden wrote to Zaccagnino to say that they would have "no further information to give you" until meeting with Gov. Chafee the next day.
Little more than hour later, Zaccagnino replied in an email that was copied to Schilling, "The fact [we] will not be working on this collaboratively all night is alarming given the current situation."
But in a key move, he declined the state's request for information about his potential investor. "As previously stated, we are being advised by counsel that we simply cannot provide that information given the overall situation," he wrote.
The investor was never identified, and no deal was ever struck. Keith Stokes, the EDC's executive director, resigned on May 16 and the case has become a political lightening rod, with the Rhode Island State Police, FBI and the United States Attorney's Office all investigating.
It is not clear what, if anything, Stokes, the EDC's executive director, knew about the company's troubles at that point. But the emails, which also were released to The Associated Press, show that he was having enthusiastic exchanges with 38 Studios employees about its game as recently as late January.
On Jan. 26, Stokes wrote 38 Studios CEO Jennifer MacLean, saying, "My son and I downloaded Kingdoms of Amalur: Reckoning demo this weekend and we had a great experience. We were most impressed with graphics, backstory and combat action. We have already preordered in the Stokes household. Congratulations."
Schilling wrote back: "Would NOT be here without you, Keith. Glad you liked it, and we're getting excited. I am heading out to LA today to shoot Jimmy Kimmel for our launch day! Should be fun."
A hearing before a federal judge in the case is scheduled for July 25.