Lawyer blasts concussion agreement
Hours after a federal judge rebuffed the proposed settlement of the NFL concussion lawsuit, an attorney representing 1,200 former players blasted the deal Tuesday, telling "Outside the Lines" he will recommend that a "substantial" number of his clients reject the $765 million agreement and continue to sue the NFL.
The two surprising developments raise questions about how the landmark case that has hung over the NFL for the past three years will proceed.
The attorney, Thomas V. Girardi, said the settlement benefits severely impaired former players but leaves many others with barely "a handshake." He said he was trying to determine which players to "opt out" of the deal and continue litigation against the league.
More from ESPN.com

Lester Munson tackles potential legal questions stemming from a judge's preliminary rejection of the NFL's concussion settlement. Story
"We're analyzing it right now to see who fits and who doesn't," Girardi said. "I would say this: A heck of a lot of them don't fit. To start giving you percentages would be a little bit over the top for me right now. But I think it will be a substantial number."
Girardi's remarks are the first indication that large numbers of players may reject the deal -- even if the settlement ultimately is approved by the judge. His remarks were all the more surprising because he sits on the players' executive committee -- a select group of lawyers charged with overseeing negotiations -- and represents roughly one-quarter of the original plaintiffs.
Girardi's comments are part of what has become an almost open rebellion by some top attorneys against the players' lead co-counsels, Christopher A. Seeger and Sol H. Weiss. Another attorney, Thomas A. Demetrio, who represents the family of former Chicago Bears defensive back Dave Duerson, told "Outside the Lines" the two negotiators have operated in a "cloak of secrecy" that has made it impossible for players to evaluate the deal.
The federal judge overseeing the case, Anita B. Brody, appeared to agree Tuesday that the deal could not be evaluated. Brody rejected preliminary approval of the settlement after concluding that negotiators failed to provide documentary evidence showing the agreement -- which covers 20,000 former players -- provides enough money for all deserving former players.
"I am primarily concerned that not all retired NFL football players who ultimately receive a qualifying diagnosis or their related claimants will be paid," Brody wrote.
Brody ordered the players' and the NFL's attorneys to provide documentation supporting the settlement through a recently appointed special master. It's unclear why Seeger and Weiss failed to provide that information last week when the NFL and the players sought preliminary approval.
Seeger has stated repeatedly that negotiators consulted with economists and actuaries to ensure the settlement covers all deserving players. In September, he told "Outside the Lines" that an "analysis from economists, actuaries and medical experts will be presented to the court."
Demetrio called the judge's Tuesday ruling "100 percent correct." He said neither Seeger nor Weiss has "supplied any substantiation as to why this settlement is fair. The lawyers issue statements stating [they] have consulted with economists and actuaries, but nobody has seen anything."
[+] Enlarge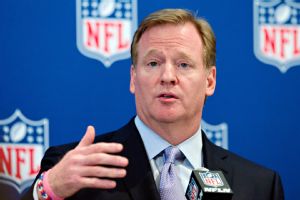 AP Photo/Carolyn KasterNFL commissioner Roger Goodell defended the league's $765 million concussion settlement in September, but U.S. District Judge Anita B. Brody denied preliminary approval of the plan Tuesday.
Demetrio said he now questions nearly everything about the documents.
"Maybe they don't exist," he said. "Maybe they don't substantiate the 765-million (dollar) figure."
In a statement Tuesday, Seeger and Weiss continued to say that analysis from "economists, actuaries and medical experts will confirm that the programs established by the settlement will be sufficiently funded to meet their obligations for all eligible retired players. We look forward to working with the court and special master to address their concerns, as they rightfully ensure all class members are protected."
The NFL also released a statement promising to "work with the plaintiffs' attorneys to supply that information promptly to the court and special master."
The documents the judge has asked for could be significant and potentially explosive, some lawyers and legal observers noted. The documentation is believed to provide estimates about the number of former NFL players who are expected to incur various forms of brain damage -- figures the NFL may wish to keep private.
Warren Zola, a professor of sports law at Boston College, said he believes the documentation was "intentionally kept secret; it wasn't sheer ineptitude that they didn't disclose."
Seeger, in a statement, said the documentation is normally submitted before the hearing for final approval. He said he regarded it as "a positive development that Judge Brody has accelerated the timeline."
The ruling is a setback for both sides. If the judge remains unconvinced that the settlement provides enough money for all deserving players, the league and the players may be forced to renegotiate. It is unclear whether the NFL would support such a solution.
Even if the negotiators are able to provide sufficient documentation, a large number of "opt outs" -- players who reject the settlement -- would make it harder to keep the agreement alive. The NFL, for example, could conclude that it would be more costly to pay the settlement and continue litigation against those players who reject the deal.
Brody indicated that she had other concerns about the settlement besides money. In a footnote, she also questioned whether enough had been set aside for diagnostic testing and raised concerns about a provision that released the NCAA and other amateur football organizations from liability.
"I think it's a very significant ruling," said Jason E. Luckasevic, a Pittsburgh lawyer who filed the first case against the NFL with Girardi and represents more than 500 players. "It's been nearly half a year since this deal was negotiated and it took the court less than a week to say, 'No deal.' That's not very good for those who made the deal."
Tuesday's ruling brought out in the open some of the discord that has simmered since the settlement was announced last August. The class-action lawsuit consolidated hundreds of individual cases filed by more than 4,500 players who alleged that the NFL concealed the link between football and brain damage.
From the beginning, many players and individual lawyers questioned whether the settlement was sufficient. In addition, some lawyers complained that a special $112.5 million legal fund paid for by the NFL would go primarily to attorneys like Seeger and Weiss. Many lawyers complained they were left out of the discussions and remained in the dark about the specifics of the settlement for months after it was announced. Luckasevic has protested that players with the earliest known cases of football-related brain damage, including Hall of Fame Pittsburgh Steelers center Mike Webster, were cut out of the deal.
"The communication, candidly, has been very poor," said Demetrio, adding that "the cloak of secrecy has been extraordinary to me. You ask a question and they say there's a gag order. That's utter bull----. There's no gag order that says you can't talk to co-counsel. The whole thing has been a disappointment professionally."
Girardi, a prominent Los Angeles personal injury attorney who was part of the famous Erin Brockovich lawsuit against Pacific Gas & Electric, said Seeger and Weiss marginalized him from settlement discussions even though he sits on the executive committee.
"We were foreclosed," Girardi said. "I was on the executive committee, but when it came time to discuss the settlement, it was just Seeger and the other guy, without any of our input."
Asked if he complained to either of the lead co-counsels, Girardi said: "Yeah, I did. As a matter of fact, I wasn't very sweet."
Seeger, in a statement, wrote: "All of the lawyers on leadership committees for this litigation reviewed the details of the settlement and voted unanimously in its favor before it was announced on August 29."
Before Brody issued her order denying the motion for preliminary approval, Seeger had scheduled a meeting of plaintiffs' attorneys for next Tuesday in New York to discuss the settlement. It's unclear if that meeting will still take place.
Girardi said he supports the settlement for players who were "very badly hurt." But he said the agreement fails to adequately compensate other impaired players whose injuries are not as severe.
"The fact is that a lot of these players are hurt and aren't going to get anything except for a promise in the future," he said. "That doesn't sound very good for me. And I think that's going to require some adjustment one way or another. I don't know how a lawyer ethically could agree just to walk away from this thing."
"What I'm saying is, I'm going to thoroughly examine how many players would not receive anything substantial in this and make a decision with them to opt out of the settlement."
Linda Sanchez, a Democratic congresswoman who chaired hearings of the House Judiciary Committee in 2009 into the NFL and concussions, said she supported Brody's decision.
"The settlement does not do enough to ensure that the NFL is taking all the necessary precautions to protect its active and retired players," Sanchez said in a statement.
Winner, 2008 Pulitzer Prize in International Reporting
Four-time first-place winner in Associated Press Sports Editors competition
Co-author of New York Times best-selling book, "League of Denial"
Investigative reporter for ESPN's Enterprise and Investigative Unit since 2007
Co-author of New York Times best-selling books "League of Denial" and "Game of Shadows"
Co-winner, 2004 George Polk Award
MOST SENT STORIES ON ESPN.COM