Commentary
Talking the Clemens-trial talk
The Roger Clemens perjury trial, in its sixth week, has thus far put two (since dismissed) jurors asleep, included testimony from a beer can expert, led to dozens of objections by attorneys and had jurors discerning between "bloody shots" and "booty shots."
It can be a lot to keep up with. So as we face a few more weeks of it all, here are some key terms to know, learn and live:
Ampoules: These little glass containers are one of a host of reasons to stay away from steroids. To free the drug from these containers and insert it into the syringe, you must snap off the top with your fingers, producing razor-sharp shards of glass. Even a guy like former Clemens trainer Brian McNamee, who has provided multiple cycles of steroids to at least 12 ballplayers, cut his hand repeatedly as he broke ampoules to inject clients. McNamee's blood was discovered on cotton balls he claims he used after injecting Clemens.
Follow the trial

ESPN's T.J. Quinn will provide live coverage from the courtroom during the Clemens trial. Follow along with our up-to-the-minute Twitter coverage.
"Bases Loaded": This is the title of the book steroids dealer Kirk Radomski wrote after collecting an advance of $500,000. The Clemens defense team purchased three copies to prepare for Radomski's testimony, but federal prosecutors borrowed a copy from the public library.
BBQ-flavored potato chips: The great NPR legal affairs journalist Nina Totenberg was in the courtroom watching McNamee testify on May 16 when she broke open a morning snack. It may have been the noise of the bag of chips or it may have been the unmistakable BBQ aroma. Either way, in seconds, a deputy marshal removed Totenberg and the chips from the courtroom. After a heartfelt apology and promise to modify her behavior, Totenberg was permitted to return.
Booty shot: Clemens used these two words to McNamee to begin what the prosecution contends was three years of steroids and HGH use. The great pitcher asked the trainer to give him an injection in his buttocks, setting off a 14-year process that led to an abscess, a massive federal investigation, a hearing before a Congressional committee, the Mitchell report and this trial.
Country big: Clemens is not "weight-room big," according to Andy Pettitte. Responding to a question from one of Clemens' attorneys, Pettitte said Clemens is "country big." It's one of those peculiar Texas phrases, and it's part of a defense narrative that Clemens transformed himself from a "pudgy boy" to one of the great pitchers of all time with hard work and without any help from performance-enhancing drugs.
"Death, Taxes and Mac": This is the title of McNamee's unpublished book. The "x" in the word "Taxes" is made with a pair of crossed hypodermic needles. It was bad enough that McNamee could not sell the manuscript, but then Clemens attorney Rusty Hardin used the "in his own words" manuscript to confront McNamee with a series of inconsistent statements. See also Lie, Mistake or Bad Memory.
[+] Enlarge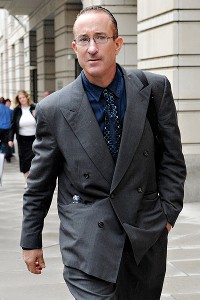 AP Photo/Susan WalshFormer trainer Brian McNamee leaves federal court Monday in Washington after testifying in the Roger Clemens perjury trial.
Defamation: McNamee and Clemens have sued each other for defamation. McNamee's case is likely a first in the history of American jurisprudence. His case is based on the fact that he is a steroids dealer. When Clemens denied that McNamee was dealing steroids, McNamee felt defamed. His feelings were hurt when Clemens said McNamee was not the drug dealer McNamee claimed to be. For McNamee, that means Clemens owes him $10 million.
Domestic bliss: Hardin was incredulous when McNamee said he brought the physical evidence home to reassure his wife, Eileen, that he would never be the fall guy if Clemens' and McNamee's use of steroids was revealed. No one can do incredulity like Hardin. He also managed in his tone and his gestures to indicate that it was less than chivalrous for McNamee to bring his wife into the situation. But there's a problem. Clemens has also brought his wife, Debbie, into the situation with his suggestion to Pettitte that their conversation about HGH involved Debbie's use of HGH and not Roger's. The incredulity and the lack of chivalry seem to be mutual.
Final arguments: These presentations to the jury at the conclusion of the trial may be the keys to its outcome. Although the prosecutors have encountered difficulties in the presentation of their case and have faced setbacks in rulings from Judge Reggie Walton, they have managed to put together pieces of evidence that will present a picture of possible guilt. Lead prosecutor Steven Durham has the talent, the experience and the voice that can put the pieces together in a powerful and convincing way. Hardin, one of America's great trial lawyers, will put on a memorable show seeking to establish a reasonable doubt in the minds of the jurors. After weeks of trial, dozens of witnesses and hundreds of exhibits, it will come down to a few hours of lawyers' oratory.
IT Guy: He is the trial's MVP. When the judge walks into the courtroom, everyone stands up in respect. When the tech guy walks into the courtroom, the judge stands up in respect. His name is John Cramer, and he has managed to keep an enormous tangle of technology working smoothly. It includes the courtroom sound system, a television feed for media and overflow crowds, a dozen monitors that show the evidentiary exhibits, and much more. When there is a problem, he responds instantly and effectively. If the trial ever ends, the judge, the prosecutors, the defense lawyers and the media should give him an award.
Jenna Gatski: Whenever a large group of reporters and broadcasters lands in a courthouse for a significant trial, there can be problems. The people in the U.S. District Court in Washington anticipated the problems resulting from the coverage of the Clemens trial and did exactly the right thing -- they put Gatski, a legal assistant in charge. I have reported on numerous trials throughout the U.S., and no one has done a better job attending to the media than Gatski.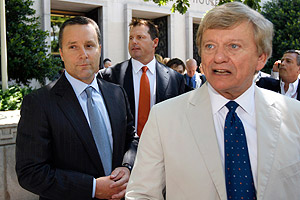 AP Photo/Alex BrandonFormer Major League Baseball pitcher Roger Clemens, center, with his attorneys Michael Attanasio, left, and Rusty Hardin, after his perjury trial ended in a mistrial last year.
Lie, Mistake or Bad Memory: Early in his cross-examination of McNamee, Hardin wrote these words in large block letters on a poster board and placed it next to McNamee. In three days of cross-examination, he returned to the list again and again, asking McNamee to place his pretrial statements to agents, prosecutors, the U.S. Congress, the Mitchell report and the federal grand jury into one of these categories. The "truth" was never one of the categories.
Medical waste: According to McNamee, Clemens did not want used syringes, vials and cotton balls left in Clemens' various residences and always asked McNamee to take them and to dispose of them. If Clemens had disposed of the waste himself, the government might not have filed any charges against him. The most powerful evidence against Clemens is that the medical waste was beneath his dignity to handle. There's a moral lesson in here somewhere.
Mistrial: The judge, the prosecutors and the defense lawyers agree on one thing -- they don't want a mistrial. It is a routine bit of rhetoric in trials of criminal cases for a lawyer to strengthen his argument on an issue by asserting that the situation is so egregious the trial must end and the judge must declare a mistrial. The prosecution caused a mistrial with a blunder in July. No one on the prosecution team will now mention the possibility of a mistrial. The defense team, according to attorney Michael Attanasio, "likes this jury" and "likes the way the trial is going" and will not ask for a mistrial. Both sides are also working slowly and carefully to avoid the kind of mistake that causes a mistrial. If this trial were a golf tournament, both sides (and the judge) would be penalized for slow play.
Prosecution Exhibit No. 45: In a bit of dazzling courtroom magic, prosecutor Durham saved the government's case with a hand-drawn chart that summarized Pettitte's testimony on Clemens' use of HGH. It is easily the dumbest-looking exhibit in a trial full of slickly produced evidence, but it may be the most important. After Attanasio managed to lure Pettitte into admitting that his certainty of Clemens' admission of HGH use was only a "50-50" proposition, the government was in trouble. Walton could easily have ruled that with only a 50-50 certainty, the jury would be barred from considering the damaging admission from Clemens. But Durham re-established one of the government's most important pieces of evidence when he asked Pettitte to look over Prosecution Exhibit No. 45 to determine whether it was "true and accurate." Pettitte's agreement that it was accurate was the basis for Walton's ruling that the jury could consider Pettitte's story of Clemens' admission and saved the government from embarrassment. It was a nice piece of work by Durham.
Quick sidebar: This is something that never happens in Walton's courtroom. When one of the prosecutors objects to a question from the Clemens defense team (the Clemens lawyers rarely object), the prosecutor will ask Walton for a quick sidebar. That means the lawyers will gather at Walton's bench to argue out of the hearing of the jury and the audience. Walton then flips the switch on an ambient sound system that broadcasts static in the courtroom to further insulate the bench conference from the jurors and the audience. The procedure is doubly annoying. The ambient sound is irritating all by itself. And the conferences are endless. A close reading of the transcripts of these conferences (filed a day or two later) shows that Walton does most of the talking, indulging in rambling discourses that go nowhere. If he simply ruled on the objection with the words "sustained" or "overruled," he would cut days from the length of the trial. It has reached the point that you can almost hear the jurors groan as one of the prosecutors asks for a quick sidebar.
[+] Enlarge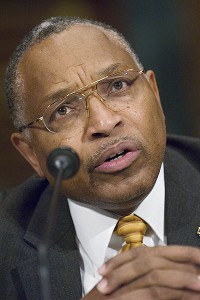 Scott J. Ferrell/Getty ImagesJudge Reggie B. Walton is presiding over the Clemens trial.
Stern lecture: Every now and then, Walton delivers what he believes to be a stern lecture to the prosecutors and the defense lawyers and demands that they speed up the trial. He likes to tell them that "someone is going to pay the price" for the glacial pace of the trial. Although Walton wants it to look as though he is blaming both sides, it is clear that he is unhappy with the deliberate and occasionally ponderous approaches of prosecutors Daniel Butler and Durham. At least six times during questioning of McNamee, without any objection from the defense team, the judge interrupted Butler's questions and urged him to move on to another topic. It is also clear that his lectures have no impact on the veteran prosecutors and that neither they nor the defense lawyers are particularly interested in the judge's observations.
Suspicious minds: Walton allows the jurors to ask questions of each witness after the trial lawyers have concluded their work. In the questions that the jurors have been submitting, it is clear that at least a few jurors are not happy with the government's presentation. One juror, after the first mention of the physical evidence that McNamee stashed in his house for six years before turning it over to the government, asked, "Did anyone find it suspicious that this evidence surfaced this way, and in the way it was housed in a beer can?" The juror was concerned that it was "planted" evidence. That's the last thing the prosecutors wanted to hear from a juror, and it may develop into an even more serious problem for the government when Hardin begins to present expert witnesses who will explain how McNamee could have fabricated the evidence.
Ten years: McNamee may be, as Clemens and Hardin insist, the scum of the earth, but Clemens used McNamee as his trainer for 10 years, paying him $5,000 per month and allowing him to live in the Clemens compound in Houston.
These hands: Answering accusations that he made big money in the steroid business, Radomski held up his large hand to the jury and exclaimed, "Look at these hands. I am a hardworking guy. I could build a house if I had to." As unlikely as it seems, you found yourself believing Radomski. His street charm and his apparent candor made him a persuasive witness. If McNamee had half of Radomski's charm and candor, Clemens would be considering a guilty plea.
Trainer: This is what McNamee is supposed to be, but he just doesn't look like a trainer.There were at least a dozen people in the courtroom who look more like a trainer. He was skinny and pale. His suits were two sizes too large. And there was very little of the street charm that he showed in his testimony before the congressional committee.
Waste of resources: The Clemens lawyers mention it again and again. The U.S. government has invested enormous resources trying to convict Clemens -- 103 agents interviewed 187 witnesses in 79 locations generating 268 detailed reports. The lawyers hope the magnitude of the federal effort will offend the jury and result in a not guilty verdict. It's a strategy that may work.
Legal Analyst
Senior Writer and Legal Analyst, ESPN.com
13 years as investigative reporter at Sports Illustrated
Adjunct Instructor, Northwestern's Medill School of Journalism
SPONSORED HEADLINES
ESPN TOP HEADLINES
MOST SENT STORIES ON ESPN.COM