Jeff Novitzky probing Biogenesis
Biogenesis clinic founder Tony Bosch has drawn the attention of Jeff Novitzky, the FDA agent who led the federal criminal investigations of the BALCO lab, Roger Clemens and Lance Armstrong, a source familiar with the case told "Outside the Lines."
The Miami Herald first reported Thursday that the U.S. Attorney's Office in Miami had opened an investigation and was seeking to interview former Biogenesis employee Porter Fischer.
[+] Enlarge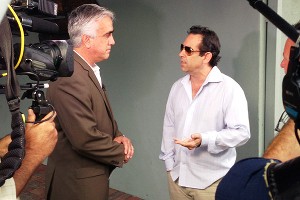 ESPNTony Bosch, right, flat-out denied any knowledge of suspected PED distribution at Biogenesis, his closed South Florida clinic, in an interview with ESPN's Pedro Gomez in April.
Two sources confirmed to "Outside the Lines" that federal prosecutors have asked Fischer to meet with them, but another source said Novitzky also had reached out to Fischer.
Novitzky became a star in his own right during the past decade, following his work to expose the BALCO scandal in San Francisco. Novitzky was with the IRS when the investigation began and moved to the FDA in 2008 as part of the agency's office of criminal investigations.
Novitzky did not return a call Thursday seeking comment.
The sudden interest from federal authorities was sparked by reports from "Outside the Lines" and the Herald last week, detailing Bosch's relationship with high school baseball players. "OTL" reported that documents obtained from the clinic listed 10 high school athletes who, sources said, had received prescription drugs from the clinic for performance enhancement.
The drugs are not approved by the FDA for such uses, and Bosch is not a licensed physician. The Florida Department of Health investigated Bosch's activities earlier this year, and levied a $5,000 fine.
The federal interest could complicate Major League Baseball's investigation of players related to the clinic. When Bosch agreed to cooperate with MLB last month, one condition was that they help mitigate any potential criminal investigation, as "Outside the Lines" reported. Bosch's attorneys met with federal prosecutors in Miami before signing an agreement with MLB, seeking assurances that Bosch would not face federal criminal charges.
MLB promised only to speak on Fischer's behalf and says that his cooperation was vital to cleaning up baseball.
T.J. Quinn joined ESPN in November 2007 as an investigative reporter for ESPN's Enterprise Unit, which is charged with developing long-form, investigative features to be presented across multiple platforms.