Lawyers: 2nd wire payment rejected
Alex Rodriguez paid for Anthony Bosch's attorney and later made a wire transfer for nearly $50,000 that Bosch's attorney refused to accept, Bosch's attorneys told "Outside the Lines" on Sunday.
The second transfer, described by one of Rodriguez's former attorneys as a mistake, is part of Major League Baseball's evidence that the New York Yankees' third baseman attempted to tamper with the league's Biogenesis investigation, several sources said.
A spokesperson for Bosch's attorney, Susy Ribero-Ayala, said in a statement to "Outside the Lines" on Sunday that Rodriguez, currently appealing a 211-game suspension from MLB, paid her a $25,000 retainer to defend Bosch in February.
Mike and Mike
Mike Golic and Adnan Virk discuss Alex Rodriguez's performance in the Yankees' win at the Red Sox, Joe Girardi's ejection after Ryan Dempster hit Rodriguez and more.
Bosch was the founder of the now-defunct Biogenesis clinic in Coral Gables, Fla., at the center of the league's ongoing drug scandal.
"A retainer was paid (via wire transfer) by a representative of Alex Rodriquez (sic). Ms. Ribero-Ayala accepted this payment on behalf of Anthony Bosch as payment for his legal representation," the statement says.
The statement says the second payment was unexpected.
"In April 2013, Ms. Ribero-Ayala received an unsolicited and unwarranted wire transfer from A-Rod Corp. The funds were immediately returned. Mr. Rodriquez (sic) does not have any involvement in Mr. Bosch's legal representation."
According to documents seen by "Outside the Lines," the amount of the second transfer was for nearly $50,000, minus transfer fees.
MLB officials declined comment Sunday night.
The documents also show that Ribero-Ayala and Jared Lopez, a partner with Roy Black's law firm in Miami, exchanged emails discussing the wire transfer. Black's firm was representing Rodriguez at the time.
According to the document, Ribero-Ayala said she had received the money and was unaware of any reason for it. Lopez responded that the money had been sent in error, and he asked that it be returned. It was.
Black's firm no longer represents Rodriguez, and Lopez could not be reached Sunday night. The documents and the statement from Ribero-Ayala's office appear to contradict earlier reports that Bosch sought to "shake down" Rodriguez for money before agreeing to cooperate with MLB's investigation in June. Instead, several sources familiar with the case said, investigators have said they believe Rodriguez paid for Bosch's attorney and sent the second payment in order to prevent him from providing evidence or testimony against Rodriguez.
At best, sources said, the evidence suggests failed negotiations between the two parties. MLB suspended Rodriguez along with 13 other major league players for their connection to Bosch and Biogenesis, but Rodriguez, who was given the harshest penalty of the group, is the only one appealing his suspension.
The longest suspension for any other player was 65 games for Ryan Braun of the Milwaukee Brewers. But because MLB accused Rodriguez of tampering with Bosch and obtaining Biogenesis documents for the purpose of keeping them from investigators, he was given the 211-game suspension.
Rodriguez and his attorneys have denied the charges and are fighting the suspension through arbitration.
In an interview Monday on NBC's "Today", Rodriguez's attorney, Joseph Tacopina, said the Yankees concealed results of an October MRI from Rodriguez that showed he had a torn hip socket. Rodriguez played poorly and was benched in the AL Division Series against Detroit. Yankees general manager Brian Cashman said the team's medical personnel "did everything they possibly can to assist Alex.''
"This MRI ... what it indicated, what it showed, is that Alex Rodriguez had a hole in his left hip, a torn labrum. He went on to play in the Detroit series, obviously didn't play well, was benched, was made a scapegoat," Tacopina said Monday. "Nobody told Alex Rodriguez that he had a hole in his left hip -- nobody. It wasn't until after the season was done that he went to his own doctor."
Tacopina said he doesn't understand why the Yankees would not have wanted to reveal the severity of the injury, given that they have an insurance policy on Rodriguez.
"Today" interviewer Matt Lauer told Tacopina that Major League Baseball sent him a letter saying it is willing to waive the confidentiality clause in baseball's Joint Drug Agreement so that both sides could release medical information regarding Rodriguez.
"We would love nothing more than to be able to discuss the testing history, the scientific evidence and the tests of Alex Rodriguez under this JDA drug program, nothing more," said Tacopina, who hadn't read the letter but offered to during the interview.
T.J. Quinn joined ESPN in November 2007 as an investigative reporter for ESPN's Enterprise Unit, which is charged with developing long-form, investigative features to be presented across multiple platforms.
ESPN's Pedro Gomez covered the Oakland A's home and away nearly every day from 1992-97 for the San Jose Mercury News and Sacramento Bee and then became the national baseball writer and later a general columnist at the Arizona Republic before becoming an ESPN bureau reporter in 2003.
BIOGENESIS SUSPENSIONS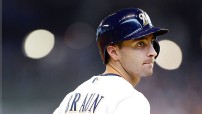 Ryan Braun released his statement apologizing for and admitting to using PEDs.
MORE FROM ESPN NEW YORK

Check out ESPN New York, your destination for sports coverage in the Big Apple.
MOST SENT STORIES ON ESPN.COM