This site was launched in March to get rid of the worst coach ever, Josh McDaniels, who had never won a single game in the NFL.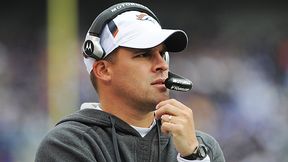 There was even an online petition with comments such as: "If he makes these horrible decisions in the off season with plenty of time to think about them, what kind of mistakes is he going to make on 4th and 1 with a min left against the Chiefs?" That's right, the Chiefs. In March, the Chiefs were seen as some sort of threat.
Anyway, on Oct. 20, after the Broncos went to 6-0, the site changed its name from "Fire Josh McDaniels" to "Keep Josh McDaniels." The URL stayed the same.
In the three weeks since, the Broncos haven't won a game. They were destroyed by the Ravens and Steelers. So, what direction will the site take next?
Personally, I'm not sitting around waiting to find out. I'm launching a site called JoshMcDanielsIsTheGreatestCoachEver.net. It will be about how Josh McDaniels should be fired.