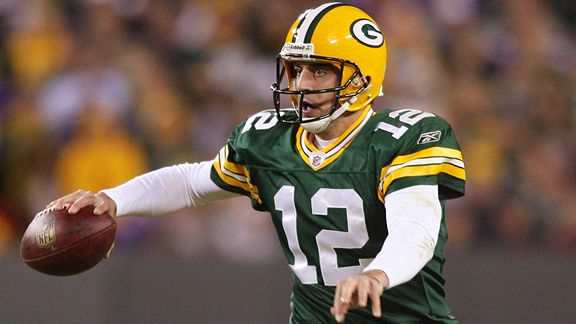 When you log on to vote for the players you'd like to see in the 2010 Pro Bowl, you'll notice the NFL alphabetizes the candidates by their first names instead of their last.
So, for example, Denver's Andre' Goodman tops the list of eligible AFC cornerbacks instead of Oakland's Nnamdi Asomugha. Or in the case of NFC quarterbacks, your choices begin with Green Bay's Aaron Rodgers rather than Drew Brees -- a good thing in my book, because Rodgers needs the help.
Through the midway point of the season, a number of NFL analysts agree that the top four quarterbacks in the NFC have been Brees, Rodgers, Tony Romo and, of course, No. 4. And though all four have comparable stats, Rodgers appears to be the one with the longest, hardest road to Miami, where the Pro Bowl will be played this season.