You may remember that Fran Tarkenton, the former Minnesota Vikings quarterback, didn't have much positive to say about Brett Favre back in August.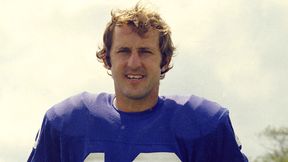 "I really have no interest in what Brett Favre does. He kind of lost me a few years ago by retiring and unretiring and here and there. I asked a few friends here, maybe 10 or 12 people we were out with last night. I said, 'What do you think about Brett Favre going back to the Vikings?' You know who cared? Nobody."
But Favre has played well. So now Jay Cutler is Tarkenton's target.
"I really question whether he can play. Jay Cutler had every opportunity to make plays for his team last [Thursday] night and every opportunity he didn't. That's how I judge a quarterback: Either you make plays or you don't. I don't even want to talk about mechanics."
Oh, Fran. So cynical. What happened to you? You used to have so much faith in what humans can achieve.
I want that Fran Tarkenton back. The positive one. I mean, this year Jay Cutler has 11 interceptions in just three nationally televised games. That's incredible!