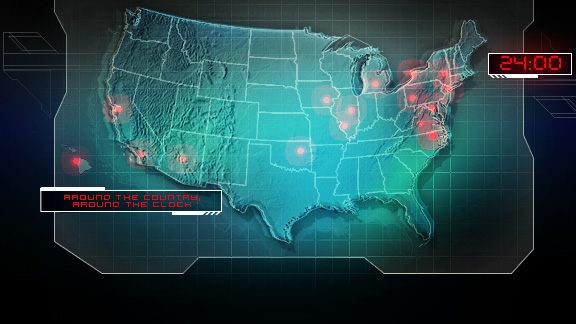 Twenty five and a half hours. Nineteen games. One pregnant wife. No sleep.
Hi, I'm Howard Megdal, writer and hoops junkie from New York. You might know me as the kid who used to will himself to get the flu so he could watch the Big East quarterfinals every March, back when college basketball from noon to 9 p.m. was considered a lot. Now I'm all grown up, but my sense of life balance is no better than before my voice changed.
I have often argued with people who think there is too much college basketball on, hoping for the day when ESPN would finally cater to the insomniac college basketball fan with 24 hours of hoops. On Tuesday, beginning at midnight ET, ESPN has been kind enough to do just that. So for 25½ consecutive hours (unless there's overtime!), I will be watching every game, and providing you, the reader, with unvarnished takes on how one man can ingest so much college basketball.
Click here to view the schedule for ESPN's college hoops marathon.
Now it is time for me to put my couch, my array of junk food and the fate of my marriage where my mouth is.
I'll be watching every bounce of the ball, reporting on the things that matter. You want brilliant basketball analysis? Go see Andy Katz. You want reports on player haircuts, student sections, how cheerleaders form pyramids at 4 a.m., and which hallucinatory flashbacks I have to decades-old Northeast Conference championship games while my wife reconsiders her decision to procreate with me? Join me here.
To reach me with suggestions or simply support, e-mail me at hmegdal@yahoo.com.
By Tuesday morning, I'll have an in-progress status report -- followed by another 16 hours of basketball. And I'll be loving every minute of it.
Together, we'll embrace a life devoid of anything other than basketball. By dusk on Tuesday evening, we'll find out the answer to the following question: What will be an emptier shell, my coherence, or the University of Binghamton men's basketball program, which takes on Pittsburgh at 5:30 p.m.?
Will I simply repeat the phrase "Gonzaga Zags!" at increasingly frenetic levels by the time TCU and Arizona State tip off at 11:30 p.m. Tuesday?
Stay tuned for blog posts Tuesday and a full report Wednesday.