Editor's note: New York-based writer Howard Megdal is monitoring all 24-plus hours of ESPN's College Hoops Tip-Off Marathon for Page 2. Here's his first report:
12 a.m. ET: Cal State Fullerton 68, UCLA 65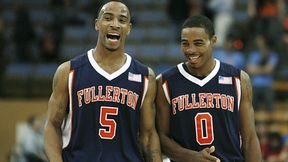 What you need to know: If you can't get up for watching UCLA at Pauley Pavilion after six months away from college basketball, you don't deserve ESPN. Someone should come to your house and replace it with a second HGTV. … I'm outraged that Alex Schrempf, of the Detlef Schrempf Schrempfs, didn't get on the floor for UCLA. … This one came down to whoever missed the last shot.
2 a.m.: Saint Mary's 80, San Diego State 58
What you need to know: There are five Australians on the Saint Mary's roster, which explains the fast start. See, in Australia, this is actually a postseason game. … Eleven national titles, and UCLA couldn't even produce a single fan painted head-to-toe in school colors. Saint Mary's has them by the dozen, and the gym is much louder. John Wooden needs to set the example here. … At the under-12 timeout, SDSU was within 13 with the ball. What's Australian for "Uh-oh?" … Saint Mary's wins 80-58. Both SDSU and Saint Mary's would beat UCLA.
4 a.m.: Northern Colorado 81, Hawaii 75
What you need to know: The Sans Serif Center? Hawaii's basketball building is named after a font? … I stand corrected. The Stan Sheriff Center. He's a former athletic director. Really disappointing. I thought it would start a trend, perhaps leading to the Arial Arena and the Wingdings Dome. … It's as if Hawaii only realized in the last four minutes of the game how to exploit every one-on-one advantage it had. … Looks like Northern Colorado remembered how to make free throws just in time to hold on for an 81-75 win. On to Jersey City!
6 a.m.: Saint Peter's 58, Monmouth 34
What you need to know: The first signs of fatigue. Those ladies in blue face paint could barely keep their eyes open. … I think we have our "Will 6 a.m. start affect the teams?" answer: 18 percent shooting on field goals for Monmouth in the first half. … That's where it ends -- a 58-34 win for Saint Peter's. Monmouth finishes with 10 field goals and 15 turnovers. It was national TV, but do you show this one to recruits?