A few weeks ago I nominated firejoshmcdanielsnow.com as the Page 2 site of the day. At that time it had been re-named Keep Josh McDaniels. Because the Broncos were good. As I said, it was a few weeks ago. But it now seems like an eternity.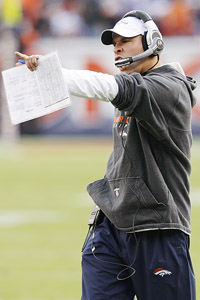 I thought I'd catch up with the owner of the site, Mark Leher, a 27-year-old head of business development for a small tech company in Denver, to see where his site stands at 6-4.
Q: You started FireJoshMcDanielsNow.com back in March. Then, after Denver started 6-0, you kept the URL but changed the title to Keep Coach Josh McDaniels. Now that the Broncos lost four in a row, do you feel vindicated?
A: I did change the title after the 6-0 start because McDaniels had done well enough to deserve to keep his job, and I did get the URL KeepJoshMcdaniels.com but I was too lazy to actually make the change. Now I'm glad I was. He probably doesn't deserve to be fired, but it turns out a lot of the reasons I had for starting the site seem to be valid and may have just been masked by the Broncos great start. The way McDaniels taunted the Chargers before they destroyed us on Sunday is a perfect example of why he may not be ready to be a head coach in the NFL yet. In fact, in honor of the incident, I'm thinking of changing the site's name again to www.TheChargersOwnJoshMcDaniels.com.
Q: What's been the general feedback?
A: Tthere have been hundreds of comments on the site and it's been a roller coaster. The anger was initially directed at Josh McDaniels and people were pretty upset about losing Cuter. Then, starting after the Broncos were 3-0 and really peaking after they beat New England and San Diego, the comments were jut as vitriolic as before but instead it was targeted at me. There were also a lot of people who had been pretty quiet in the off-season that suddenly claimed to have known all along that the Broncos were going to be great. Please. Now, with each subsequent loss, the angry attacks against me have disappeared and they are starting to be replaced by more people questioning McDaniels. For now, I can probably safely fire the security guard that sits outside my house.
Q: Any chance you'll start up the FireJoshMcDanielsNow petition again?
A: I'm a fickle guy and I might very well start up the petition again -- and then end it -- and then restart it. In all seriousness, I do think McDaniels has coached well enough to deserve another season at least.
Q: Do you mind if I buy the url: LetsKeepOpenMindAboutJoshMcDanielsAndSeeIfBroncosImproveNextYearOr2.net?
A: Just please add a link back to my site.