It's the offseason in golf. But as you've probably seen, that doesn't mean there isn't big news from the sport. Here is what's happening:
• Young, up-and-coming golfer Rickie Fowler recently got in a practice round and now is just hanging out in his hotel room.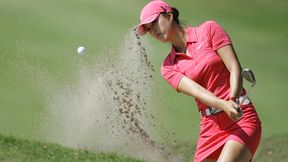 • Chris DiMarco recently celebrated Thanksgiving.
• John Daly is in Australia and enjoying his time there by watching "Two and a Half Men."
• Michelle Wie has been studying for school.
• Former Masters champion Mike Weir was inducted into the Canadian Golf Hall of Fame.
• The European team announced that Alison Nicholas will return as team captain for the 2011 Solheim Cup.
• Ian Poulter recently enjoyed the best coffee he's had in about five weeks.
• British Open champion Stewart Cink watered his Christmas tree with water, Sprite and a grape-flavored Amino Vital Focus Zone.
• That's pretty much all the major golf news I've seen.
So, yeah, pretty crazy times. As always.