This week, Olympic snowboarding gold medalist and X Games champion Hannah Teter is being immortalized in your grocery store freezer.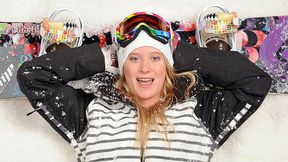 While ice cream deities Ben & Jerry have occasionally let us nibble on noble celebs like Stephen Colbert (AmeriCone Dream), and have long been licking the lips of musicians (Phish Food, Dave Matthews Band Magic Brownies, Elton John's Goodbye Yellow Brickle Road and Willie Nelson's Country Peach Cobbler), their newest flavor is actually the first Ben & Jerry's flavor ever created for an athlete.
Hannah Teter's Maple Blondie, the halfpiper by the pint, features maple ice cream with blonde brownie pieces and a maple caramel swirl.
Teter's Green Mountain roots, big heart, extreme tree-hugging and standout global activism are a natural fit for the hippie cream-churning team. The maple-flavor motivation stems from Teter's Vermont syrup company, Hannah's Gold, which donates 100 percent of profits to funding infrastructure in African villages.
Teter is a Vancouver Olympics hopeful and begins her hunt for more gold this weekend at Copper Mountain in the U.S. Snowboarding Grand Prix (Dec. 10-12). It's the first of a five-stop competition series this winter.