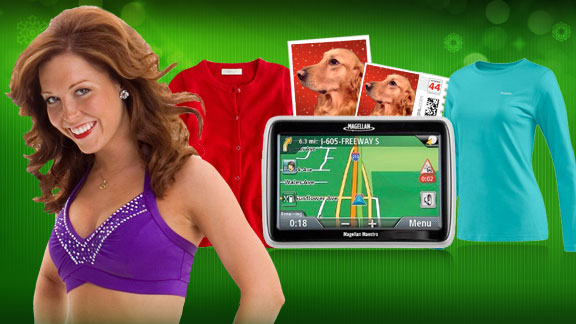 ESPN.com illustrationVikings cheerleader Kara thinks you should consider starting a new hobby as a Christmas gift.
Never fear, the Minnesota Vikings cheerleaders are here to make sure you spread some thoughtful holiday cheer to your special dear.
Check out all the great gift ideas in our Gifts for Women section of the Holiday Gift Guide.
Here's some examples:
Laura said the woman in your life would love personalized stationery.
"Any woman loves a gift that suits her individual style and personality," she said. "Why not treat her to her own personalized set of cards, fine paper or thank-you notes? Finestationery.com is a great place to start customizing, with the colors, font and style of paper that suit her. This gift is especially great for the woman who has been recently married or has moved. She will get a kick out of seeing her new name [or address] printed on an elegant card."
Kelly suggests a navigation system.
"All girls get lost at one point or another. I will be the first to admit I am one who is continuously lost and will call my dad at least two times a week to find out where I am or where I am going," she said. "Navigation systems will save you and your girlfriend from arguments, agreements on places to go out -- and will keep your lady safe. You won't have to worry if she is lost anymore and this will make your life stress-free! This is what I want for Christmas this year!"