Upon first blush, it seemed remarkable that Mark Ingram was the first Alabama player to win the Heisman Trophy. After all, the Crimson Tide lay claim to 12 national championships. Alabama is alma mater of Joe Namath, Ken Stabler, John Hannah, Shaun Alexander and Forrest Gump. How could none of them have won the Heisman? It didn't seem possible.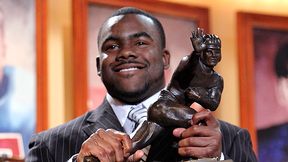 Kelly Kline / Getty Images
Nevertheless, Alabama has now staked claim to that previously unattained honor, while other history-laden teams still come up short when it comes to certain milestones:
East Germany: West Germany has won three World Cup titles (1954, 1974 and 1990), but East Germany has won none. Come on, East Germany, get with the program.
New York Yankees: For a franchise that's won a record 27 world championships, it's odd the Yankees do not have a single member of the 3,000-hit club. Right now, Derek Jeter sits at 2,747, but his contract is up after the 2010 season, so unless he gets 253 next season (his career high is 219), he very well could get No. 3,000 with another team. Perhaps Boston? The Red Sox always seem to be in the market for a new shortstop.
Cleveland Browns: The Browns are among just five teams that have never played in the Super Bowl -- the Texans, Lions, Jaguars and Saints are the others. Unlike the Browns, those teams didn't take three years off during the late 1990s. You gotta want it, Cleveland. That means fielding a team every year.
New York Mets: It's rather shameful the Mets have never tossed a no-hitter, especially because the king of this feat (Nolan Ryan, with seven in his career) began his career with the club. Seriously, how difficult can it be? Dock Ellis even claimed to have thrown a no-no while on LSD. (Yeah, it was against the Padres, but still … ) Consider this: If you're a pitcher and you don't want to face a certain batter, you can walk him or drill him with a pitch -- and your no-hitter is still intact. It's not like you're throwing a perfect game here; you got options.
Indianapolis Colts: The Colts have won exactly zero games with anyone other than Peyton Manning starting at quarterback since the end of the 1997 season. Seems like the Colts start 13-0 every year. But their lack of depth under center has proven to be an insurmountable obstacle.