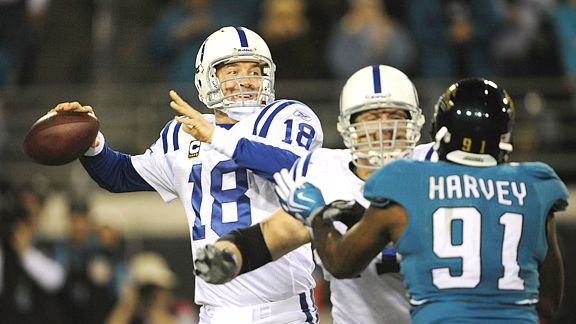 Sam Greenwood/Getty Images
As far as I can tell, the only real loser in the Colts-Jags game last night was me.
I mean, what a great game. Jacksonville acquitted itself nicely with an amazing, sold out, collegial atmosphere on prime-time national (kinda) television. Then, outmatched at nearly every position, the Jags and Maurice Jones-Drew gutted out nine lead changes to move ahead 31-28 late in the fourth only to watch Peyton Manning do his thing: a record seventh come-from-behind victory this season.
So, of course, all morning I've been reading e-mails from Colts fans the world over demanding that I perform unnatural acts on myself. (Oddly, when I e-mail them back 99 percent send an apology for their vulgar, anatomically impossible suggestions, which seems quaintly Midwestern to me.)
But to those who have not yet typed up their rebuttals for my Wednesday column that suggested 37 reasons why the Jags would win the game, (and to those who don't remember the dozens of nice things I've said about the Colts over the years, like this or this or even this, I humbly offer this mea culpa:
Man, I was soooo close.
No, just kidding. Sorry, you guys. My bad.
In the end, I gotta admit I was blown away by the cool, precise, killer instinct of the Colts. Like fine craftsmen of the game of football, the Colts do all the little things, well, perfectly and it is indeed a pleasure to watch. How many other wideouts could have shown the patience of Reggie Wayne? How many other coaches could have handled the injury situation so superbly, as Jim Caldwell did? How many linebackers can play with such smart, swarming intensity as Gary Brackett? How many Pro Bowl votes did Dallas Clark pick up last night?
Again, it's all the little things that have piled up into one epic streak. The greatest mark of a champion, I think, is the way the Colts take a punch and bounce right back, answering with a full, neck-snapping combination. You criticize Indy's special teams for not being explosive enough and Chad Simpson returns a kick for 93 yards. They're down 21-17 at the half with not even 11 minutes of possession and they don't panic. Manning looks shaky against the Broncos. Then he completes his first 13 passes against the Jags, throws for four TDs and becomes the first player to throw for 4,000 yards in 10 seasons. (Brett Favre has five.) Clark drops one ball, and a few minutes later Manning hits him on the same route for a touchdown.
In other words, the Colts did everything the Jags weren't capable of last night -- or any other night. On the backbreaking 65-yard TD pass, Jags corner Derek Cox either missed a jam on Wayne or the Jags were confused about whether they were in Cover 2 or Cover 4. Either way: inexcusable. There was the illegal formation flag that killed a late drive. And for the second week in a row, with the game and a playoff spot on the line, quarterback David Garrard shrunk from the challenge in a way I've never seen him do in previous seasons. By my count he missed five wide-open receivers during crunch time in the fourth quarter. Garrard is either hurt, washed up or has non-refundable vacation plans in January.
By then the Colts will be 18-0 and headed to Florida to face MVP Drew Brees in the & no, wait, I think I'm done prognosticating for awhile.
After being wrong 37 times in one column, I only know one thing for certain.
If Colts fans thought I was out of line, wait 'till you hear from Mercury Morris.