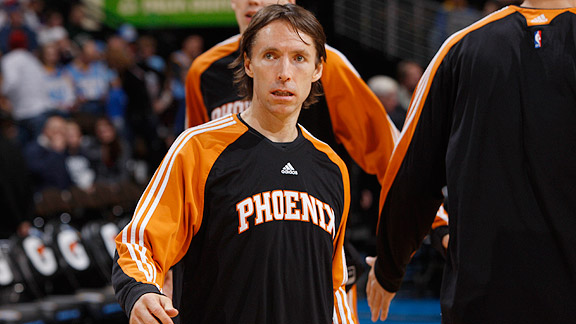 AP Photo/David ZalubowskiYeah, King James and Big Aristotle are funny, but I prefer the nickname of Steve Nash.
Which is the NBA nickname of the decade?
• Agent Zero (Gilbert Arenas)
• The Big Aristotle (Shaquille O'Neal)
• Flash (Dwyane Wade)
• King James (LeBron James)
With apologies to this quartet of nominees, I'm taking the liberty of going off the board, whether I'm allowed to or not.
I'm not voting for any of the above because "Two Time" is my runaway fave.
That's what they call Steve Nash in Phoenix, if you didn't know, in honor of his back-to-back MVP awards in 2005 and 2006, which he snagged as the quarterback whose contentious departure from Dallas in the summer of 2004 almost instantly established the Suns as the NBA's best entertainers of the decade and an annual threat to win 60 games.