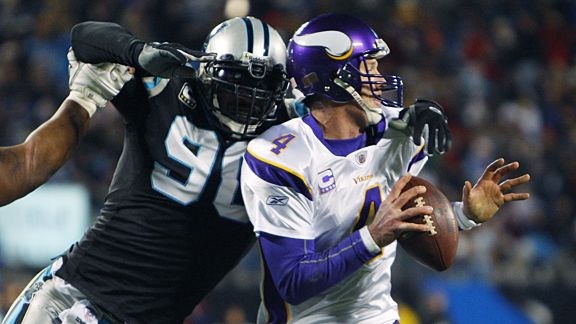 Bob Donnan/US PresswireDuring the past three games, Minnesota's Brett Favre has three touchdowns and four INTs.
Late in the game against Denver, after a great goal-line tackle, Oakland defensive lineman Tommy Kelly somehow, um, de-pantsed himself. On the middle school scale of de-pantsing, this was as close to a 10 as I've ever seen. Getting de-pantsed, though, turned out to be the common theme around the NFL in Week 15.
Brett Favre: According to a report by Judd Zulgad and Chip Scoggins of the Minnie Star Tribune, with Favre doing what looks like his usual December swoon, coach Brad Childress decided to sit him down in favor of backup Tarvaris Jackson. Favre, however, refused to come out of the game.
I mean, even the Wrangler-lovin' sycophants can't defend this one. What's next, refusing to hand the ball off? Waving off the punter on fourth down? Changing practice times?
It's funny, and sad, the way we worship Favre because of what he supposedly represents (guts, hard work, humility, leadership, grit) even when all the evidence points to the contrary.
Bart Scott: The Jets 'backer is on the cover of The New York Times' Sunday sports section blathering on and on about the art of trash talking. Then the Jets lose, and the motormouth Scott skulks out of the stadium without talking to reporters.
Josh Bell: The Packers corner got de-pantsed on the 19-yard game-winning TD pass to Pittsburgh's Mike Wallace on the final play of the game.
Jay Cutler: Does he even care anymore? That's what I want to know. After throwing his league-worst 25th pick (five more than rookies Mark Sanchez and Matt Stafford) in a blowout loss to the Ravens, Cutler was replaced by Caleb Hanie. The Bears were hoping for other options, but it turns out they traded everyone to get Cutler.
Mike Tomlin: Bizarre decision to try an onside kick with a two-point lead late against Green Bay that led to what should have been a disastrous game-losing TD.
NFC West: The Cards win the division by squeaking out a win against Detroit. Seattle gets throttled by Tampa. The Rams are 1-24. San Fran is 1-6 on the road. In the spirit of the season, the West should give its playoff bid to the AFC South.