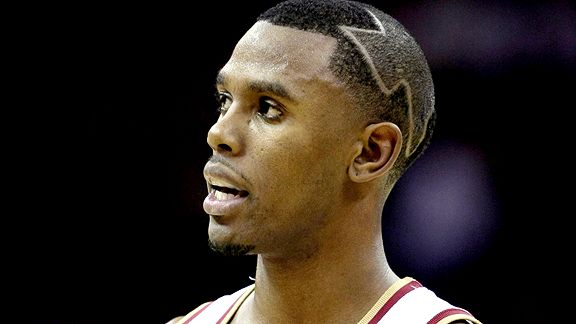 AP Photo/Mark DuncanHey, Daniel Gibson, what's going on with your hairstyle?
Four years ago, the NBA's business casual dress code seemed like a disturbing attempt to make ballers look like bankers. Now, with the ridiculous haircuts invading the league, it's clear it doesn't go far enough.
Who saw the Cavs' Daniel Gibson on the court with the Texas Longhorns' logo carved into his head? Not even Friday should be that casual.
Where's the dress code when we really need it? Guys like Gibson and Ron Artest are reminders of the days of Dennis Rodman and Anthony Mason, both of whom turned their heads into marquees. Those are the same days, from the dress code to the rule changes, the NBA's been running from. Yet, at every turn, melons are turned to murals while David Stern does nothing.
This isn't just about the league. It's about the children. Already, millions of them are embarrassing their parents with their mohawks and faux-hawks, and more of them are willing to spend time better spent reading having their jersey numbers, nicknames and addresses carved into their craniums.
This must cease.