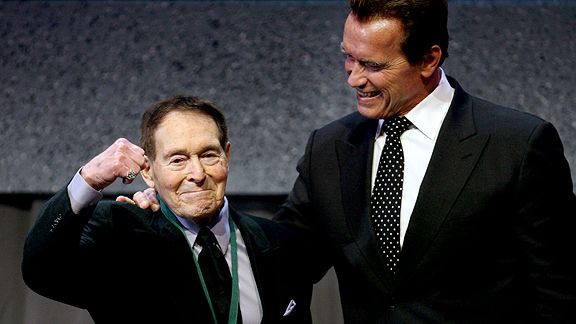 AP Photo/Steve YeaterJack LaLanne poses with Arnold Schwarzenegger after being inducted into the California Hall of Fame.
Penn State football coach Joe Paterno turned 83 Monday, which can only mean one thing: the best is yet to come.
After all, consider the Golden Years accomplishments of the following individuals:
Age/accomplishment
84: Betty White kills at Comedy Central's roast of William Shatner.
83: Hugh Hefner continues to be Hugh Hefner. 'Nuff said.
85: Former President George H.W. Bush has a Naval aircraft carrier named after him.
86: Katherine Pelton swims the 200-meter butterfly in 3 minutes, 1.14 seconds, beating the men's world record for the 85-to-89 age group by over 20 seconds.
87: Francis Peyton Rous becomes the oldest Nobel Prize laureate.
88: Claude Pepper becomes oldest man elected to the U.S. House of Representatives; also, Michelangelo creates architectural plans for the Church of Santa Maria degli Angeli.
89: John Paul Stevens continues to serve as Supreme Court justice; at tender age of 85, filled in as Chief Justice before swearing-in of John Roberts.
91: Hulda Crooks climbs Mount Whitney.
90: Pete Seeger performs closing song at Obama inaugural concert.
92: Kirk Douglas performs one-man autobiographical stage show.
93: Strom Thurmond wins reelection to the U.S. Senate.
94: Wealthy banker/family patriarch David Rockefeller Sr. maintains one of world's largest beetle collections.
95: Jack LaLanne whips Vince Vaughn into shape on "The Tonight Show."
99: Teiichi Igarashi climbs Mount Fuji.
100: Brett Favre refuses to come out of game for London Jaguars despite diagnosis of advanced osteoporosis. (Projected).