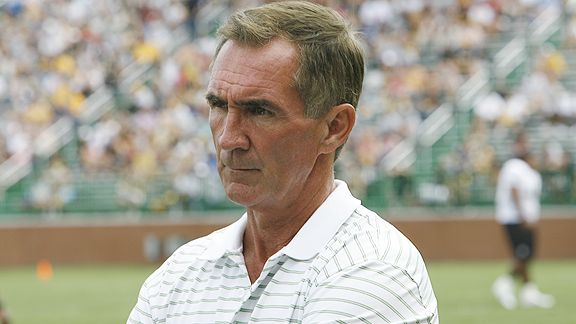 AP Photo/Keith SrakocicIs former Denver Broncos coach Mike Shanahan coming back? We have some ideas on where.
Thanks to an anonymous hookup, Santa gave us a preview of what Mike Shanahan will find in his stocking this year.
It appears several teams slipped St. Nick a little something on the side to try to sway the two-time Super Bowl champion coach toward their head-coaching positions.
Here is what we found:
• A copy of the Redskins' playbook with a lighter taped to it. And a gift certificate for $100 million from the "Free Agent Market" with a note attached saying, "Go on a little spree! D. Snyder."
• A copy of the 2009 Dallas Cowboys team picture with Shanahan's face superimposed onto Wade Phillips' body with "Wish You Were Here" inscribed.
• A copy of the Buffalo Chamber of Commerce's official welcoming pamphlet titled, "Buffalo -- It Ain't So Bad."
• A mini-helmet featuring his picture on the side. Attached note says, "Forget Paul Brown. Cleveland Shanahans has a nice ring." And a handwritten coupon saying "IOU 1 QB -- M. Holmgren."
• A mix CD with the Raiders' logo on the cover. Songs include "Prodigal Son," "Reunited" and "I Want You Back."