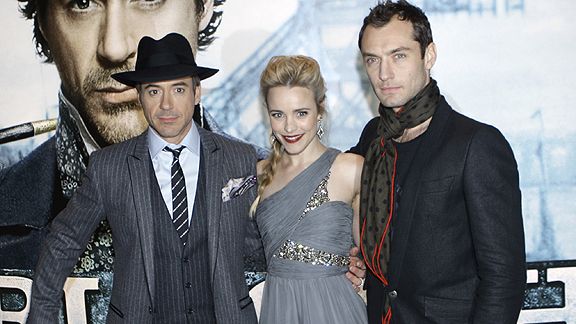 AP Photo/Joel Ryan Actors Robert Downey Jr., Rachel McAdams and Jude Law are in Sherlock Holmes. Go watch it Friday.
10. Reading the Internet -- Congratulations, you already have begun working your way through the list!
9. Watching the Heat at Knicks (noon on ESPN) -- This jumps way up the list if you happen to be LeBron James and are trying to decide where to play next year. In fact, they should go ahead and call this the "Bron Bowl."
8. Watching the World Long Drive Championship (2 p.m. on ESPN2) -- Dad just got his new driver, so give him something to aspire to. If he ends up screaming at the top of his lungs and dancing for an imaginary crowd, forgive him, it's Christmas.
7. Eating -- Thanksgiving gets all the attention, but Christmas is really where it's at because you get to eat brunch food in addition to the big dinner. Plus, candy is introduced to the mix. French toast casserole with a side of malted milk balls? Yes, please!
6. Watching the Celtics at Magic (2:30 p.m. on ABC) -- Nothing brings a family together quite like booing J.J. Redick.
5. Go see a movie -- If you happen to catch "Sherlock Holmes" today, please come back and tell me what shirtless, bare-knuckle boxing has to do with solving mysteries. And shouldn't he still have to wear the hat and smoke the pipe in the ring? I feel like he should.
4. Watching the Cavaliers at Lakers (5 p.m. on ABC) -- This would probably be No. 1 if the celebrities in the audience were required to exchange gifts with their families at halftime. It would be fun to watch Lamar Odom try to focus in the second half after Khloe Kardashian locks herself in a bathroom because Heidi Montag's diamonds were "more sparkly."
3. Watching the Chargers at Titans (7:30 p.m. on NFL Network) -- By keeping this game on their own network, the NFL has given us the greatest gift possible: an excuse to go to a bar on Christmas night.
2. Opening presents -- The main event on Christmas Day. Watching young kids dump out all the expensive plastic to play with the box is one of life's great joys.
1. Online shopping -- Gift cards are burning a hole in your pocket, and let's be honest: You are definitely returning that sweater. The in-laws are gone and the kids are asleep, go ahead and put the "ME" in Merry Christmas. You've earned it.