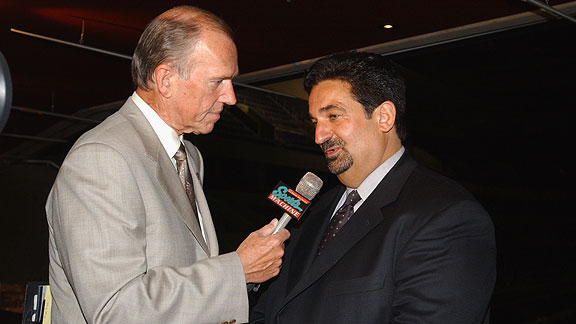 Mitchell Layton/NHLI/Getty ImagesWashington Capitals co-owner Ted Leonsis is interviewed by sportscaster George Michael in 2002.
Fans of a certain age should save a grateful toast this holiday for George Michael (the sports anchor, not the pop star), who died Thursday at the age of 70.
Before YouTube, before Web Gems, before "SportsCenter" became omnipresent, George delivered sports highlights to famished fans who didn't even realize their stomachs were empty. We're so inundated with this sort of thing now that it's difficult to remember how captivating his "Sports Machine" was at the time. The old Machine may seem quaint and old-fashioned -- even the term ''machine'' is dated -- but you have to remember, this was the mid-'80s, when it was still considered almost miraculous to get more than two college football games on TV a week, a baseball game from out of your market or a football highlight without Howard Cosell's voice.
Plus, we were easily impressed by simple technology back then (see: the Commodore 64, RCA's videodisc player, "Alf'').
Back then, the "Sports Machine" was better than owning your own satellite dish -- and not just because you received his show free, over-the-air. George would stand there every Sunday evening like a seasoned game show host, say a few words to whet the appetite, then press his palm down on a button the size of William Perry's helmeted head and transport us to astounding video after astounding video. He called it the "Sports Machine" but it was more like a trip to Sports World.
The "Sports Machine" may not seem like much compared to the sports riches we have at our command today, but in leaner times, it was special and very welcome.
Thanks for the highlights, George.