Lost in another Raiders loss was Sebastian Janikowski drilling a 61-yard field goal, the fourth longest in NFL history.
Go ahead, Al Davis. Say, "I told you so."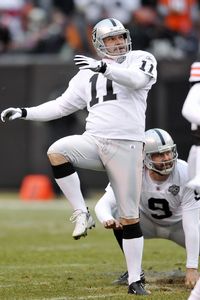 AP Photo/David Richard'61-yarder? I told you so!'
Davis' sanity is constantly in question, and drafting a place-kicker in the first round of the 2000 draft didn't help.
Consider how interchangeably bad kickers are: Shaun Suisham was cut by a bottom feeder (Washington) and signed with a contender (Dallas) two weeks later.
In a league rife with mediocrity, Davis has one of the best kickers in the league.
Compare this to other decisions that actually seemed to make more sense at the time.
Essentially traded Jon Gruden to the Buccaneers for two first-round picks in 2002. Rich Gannon threw five interceptions in the Bucs' blowout win over the Raiders in Super Bowl XXXIV.

Traded a first-rounder and change for Randy Moss in 2005. Got 102 receptions and 11 touchdowns from him in two seasons.

Drafted Thorpe Award winner Michael Huff in '06. He's been burned so much that, if "SportsCenter" had closing credits, his name would appear.

Didn't fall for the fool's gold that was Brady Quinn in the '07 draft … but somehow managed to do worse.

Traded Moss to New England for peanuts during the '07 draft. He hauled in an NFL-record 23 touchdowns on 98 catches in his first season with the Patriots.

Selected couldn't-miss running back Darren McFadden in the 2008 draft. He is now below Huggy Bear's son on the depth chart.
Now, if the Raiders could just get across midfield more often, they might be onto something. With Janikowski on board, they barely even have to get that far.