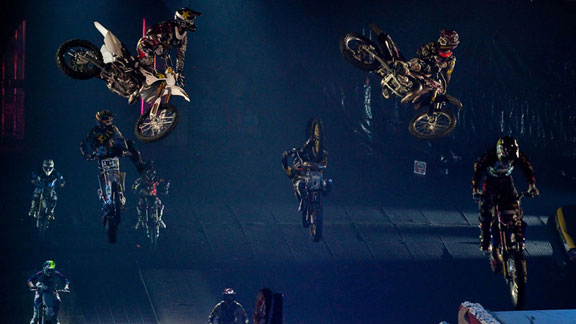 Chris TedescoIf you're looking for some excitement in 2010, look no further.
Launch Gallery »
Nuclear Cowboyz is one of the most intense FMX events I have ever seen, and this is coming from someone who has seen a whole lot of "intense" over the years. With 16 choreographed riders throwing consecutive backflips, ramp-to-ramp, in the dark, with smoke and lights in their eyes … well, you can understand why I was peeking out from between my fingers. This is one hell of a show.
But what is it, exactly? Well, Feld Motor Sports -- promoter of AMA Supercross -- decided a while back that the United States needed a world-class freestyle motocross show. After gathering the world's best riders, producers, directors and choreographers, the 15-city Nuclear Cowboyz Tour was born. But it isn't quite that simple. You see, Nuclear Cowboyz isn't a contest or a competition. It's more like Disney on Ice … only on dirt bikes.