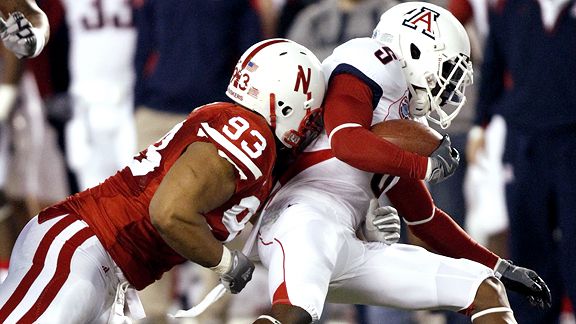 AP Photo/Denis PoroyNebraska's Ndamukong Suh drags down Arizona's Matt Scott during the Holiday Bowl.
Stanford running backs coach Willie Taggart was recently named as the new head coach at Western Kentucky. So it's not surprising that he was wearing a WKU sweatshirt the other day. The problem is that he was wearing it while still coaching for Stanford in the Sun Bowl. Couldn't he have waited until after Stanford's season ended?
Taggart's sideline gear is one of several interesting uni-related storylines that have emerged during the bowl season. Here are some of the others:
• Armed Forces Bowl: No white jerseys in this game, as Air Force and Houston agreed to go color versus color. Looked pretty cool, although a colorblind quarterback looking downfield might have found things a bit confusing. Also: Air Force added a camouflage pattern to its lightning bolts on the players' helmets, apparently based on this design.
• Gator Bowl: Another color-on-color game. And this time there was enough contrast for the colorblind set.
• Champs Sports Bowl: Miami went with its "Pro Combat" uniform, featuring orange/green uni numbers, orange/green pants striping, and even orange- and green-trimmed cleats (with orange and green soles!). Meanwhile, Wisconsin became the first team to wear adidas' Powerweb pants, which is the same technology adidas will be using for many World Cup soccer jerseys later this year (further info here).
• Holiday Bowl: Arizona broke out a new white helmet design. The Wildcats lost.
• Sugar Bowl: Cincinnati broke out a new white helmet design. The Bearcats lost.
• Rose Bowl: Oregon broke out its seldom-used white helmet. The Ducks lost.
• Papajohns.com Bowl: South Carolina broke out its white helmets. OK, so that's the same helmet design the Gamecocks always wear. But they lost.
• Cotton Bowl: Guess who lost? Hint: the team in the white helmets.
• Chick-fil-A Bowl: Do I really need to tell you which team lost?
There were some white-helmeted exceptions. Penn State and USF, for example, won their bowl games. But as we look ahead to this week's BCS National Championship Game between Texas and Alabama, maybe the Longhorns should consider painting their helmets burnt orange.