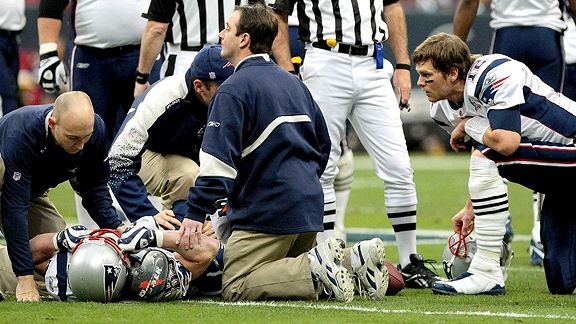 Thomas B. Shea /Icon SMINew England Patriots players, including Tom Brady, look as medics attend to Wes Welker.
The likely season-ending injury of New England Patriots' Wes Welker raises red flags to any discussion from the NFL competition committee on whether leagues should mandate playoff-bound players from participating at the end of the regular season. Throw in Cincinnati Bengals Chad Ochocinco, who tweaked his left knee in Sunday's game, and you have some lively discussions.
Here are some notable season-ending injuries by players who subsequently missed the postseason:
Brian Westbrook, 2003 Eagles: Westbrook scored 13 touchdowns during the 2003 season, but tore his triceps muscle in the regular-season finale and missed the Eagles' playoff run and eventual trip to the NFC Championship game.
Brian Griese, 2000 Broncos: Griese, who went 7-3 as a starter for the Broncos, injured his shoulder in the regular-season finale and was replaced by Gus Frerotte in the playoffs. The Broncos lost to the Ravens in the AFC Wild-Card game.
Marshall Faulk, 1995 Colts: Faulk ran for more than 1,000 yards, playing in all 16 games, but hurt his knee in the season finale against the Patriots. With Faulk unavailable, the Colts turned to rookie Zack Crockett, who rushed for 147 yards in an upset win over the Chargers. The Colts advanced to the AFC Championship game before losing to the Steelers.
Sterling Sharpe, 1994 Packers: Sharpe injured his neck during the final two games of the 1994 season with the Packers. He had 94 catches and 18 touchdown receptions in his last NFL season. The Packers went on to lose to the Cowboys in the NFC Divisional matchup.
Phil Simms, 1990 New York Giants: Simms severely sprained his right foot in the Giants' 14th game of the season. Simms would go on to miss the Giants' final two regular-season games and the postseason. Jeff Hostetler would quarterback the Giants to five straight (including playoffs) and win in Super Bowl XXV over the Bills.
Curt Warner, 1987 Seahawks: Warner, who ran for 985 yards that season, sprained his ankle in the regular-season finale and was out for the Seahawks' eventual loss to the Oilers in the AFC Wild-Card game.
Notes: Carson Palmer, 2006 Bengals, was injured in the opening moments of the AFC Wild-Card game when he severely damaged his knee. Terrell Owens, 2005 Eagles, made a miraculous return from a fractured fibula suffered in mid-December to record nine catches for 122 yards in Super Bowl XXXIX. Jim Kelly, 1992 Bills, sprained his right knee in season finale at Houston. Frank Reich led the teams to playoff wins over Oilers and Steelers. Kelly returns in time for AFC title game and led the Bills to Super Bowl XXVII.