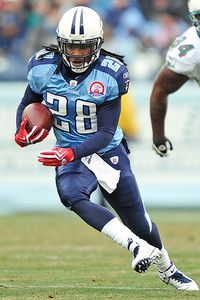 Don McPeak/US PresswireChris Johnson is fast, sure, but Usain Bolt wins on name alone.
Some people just can't be satisfied.
Chris Johnson recently became just the sixth player in NFL history to total more than 2,000 rushing yards in a single season, and considering the Titans' 8-8 finish, you'd think consideration for the NFL MVP might be enough.
Nah, who wants that? Johnson would much rather be crowned the fastest human in the world.
Of course, to do that, we all know who stands in his way.
Sources say a race between Johnson and Olympic gold-medalist and current fastest-man-alive Usain Bolt might be in the works. Which begs many questions.
Does Johnson even have a chance? Should Bolt be worried? One hundred meters or 60-yard dash?
And the most important question: When do tickets go on sale?