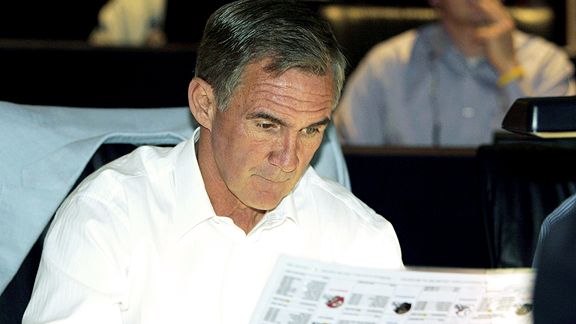 AP Photo/David ZalubowskiWill Mike Shanahan have success with the Washington Redskins? Hard to say.
Mike Shanahan is one of 12 coaches to win multiple Super Bowls, and he's only the sixth coach to move to another team after doing so.
The other 5 were Vince Lombardi, Tom Flores, Bill Parcells, George Seifert and Jimmy Johnson. One could say that Parcells was the only one of those men to enjoy significant success elsewhere.
Vince Lombardi: Won Super Bowls I and II to close a remarkable 10-year run with the Packers that saw him go 89-29-4. After a year off from coaching in which he concentrated on the role of general manager, Lombardi left to join the Redskins in 1969. He went 7-5-2 in his only season with the team before dying from cancer in September 1970.
Tom Flores: People forget that Flores won Super Bowls with the Raiders following the 1980 and 1983 seasons. Flores, who completed a nine-year run as Raiders coach in 1987, compiled an 83-53 record with the franchise. Flores returned to the sidelines with the Seahawks in 1992 (he had been the club's President and GM) and went 14-34 in 3 seasons as the team's coach.
Bill Parcells: He went 77-49-1 in eight seasons with the Giants, concluding his run with a victory in Super Bowl XXV. Parcells, who also won Super Bowl XXI following the 1986 season, moved on to coach the Patriots, Jets and Cowboys where he went 95-81. Parcells turned around each franchise, but fell short of the ultimate goal in each place.
George Seifert: His record of 98-30 in eight seasons with the 49ers included Super Bowl wins following the 1989 and 1994 campaigns. Seifert left coaching after the 1996 season, but returned to the sidelines in 1999 with the Panthers. He didn't produce a winning record in Carolina, going 8-8, 7-9 and 1-15 in 3 seasons.
Jimmy Johnson: He helped assemble a dynasty in Dallas, winning a pair of Super Bowls and going 44-36 in 5 seasons. We all know Johnson went 1-15 in his first season, but he was 36-12 over the last 3 before he and Jerry Jones had a falling out after the Cowboys won Super Bowl XXVIII. Johnson returned to the sidelines with the Dolphins in 1996 and went 36-28 in four seasons. That was actually a better win percentage than he had in Dallas, but Johnson's Miami teams won only two playoff games and he was humiliated in his (and Dan Marino's) final game; a 62-7 loss to the Jaguars in the 1999 divisional round.