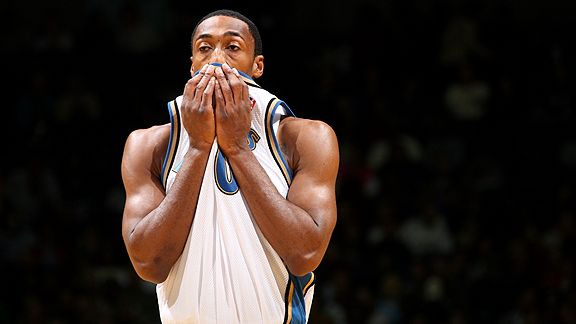 Ned Dishman/NBAE/Getty Images We loved your work in Washington, Gilbert, but it's probably time to go.
Dear Mark,
Your country needs you. Again. Nine years ago you rescued the nation's capital from professional hoops mediocrity -- from utter hopelessness, really -- by trading for Washington Wizards forward Juwan Howard and his salary cap-pummeling, franchise-scuttling $105 million albatross contract. O benefactor! Our benefactor!
In one magnificently charitable stroke, you handed long-suffering Washington, D.C., basketball fans the equivalent of a TARP bailout: Removing a player we couldn't win with and couldn't trade; making Michael Jordan briefly look like a competent executive; providing us the cap room to sign a young, up-and-coming guard named Gilbert Arenas. Excitement followed, as did victories, and our city enjoyed its most successful era of Wizards basketball since the Carter administration.
It's time to make lightning strike twice.
As you may have heard, we have a bit of a Arenas problem. Guns in the locker room, general stupidity, chronic cluelessness, a public-relations Dunkirk. Oh, and possible federal charges. We'll spare you the messy details. Anyway, the pertinent facts are as follows: Arenas has a big, fat, unattractive contract that likely won't be voided. Despite a couple of knee surgeries, he's still an excellent player, just entering the prime of his career. But he can't thrive here. Won't thrive here.
Which is where you come in.
Make a deal. Take Arenas off our hands. You're a magnanimous guy. (We saw your show.) More to the point, you can afford it, and you're not afraid to take calculated risks. (We saw that you wanted to buy the Chicago Cubs). Trust us: You'll like Arenas. And we'll take anything in return. Even Erick Dampier. Or what about those nosy no-goodniks at the SEC? You want them off your back? Done. This is Washington. Quid pro quo. Just play ball.
Help us, Mark Cuban. You're our only hope.
Sincerely,
Washington, D.C. basketball fans