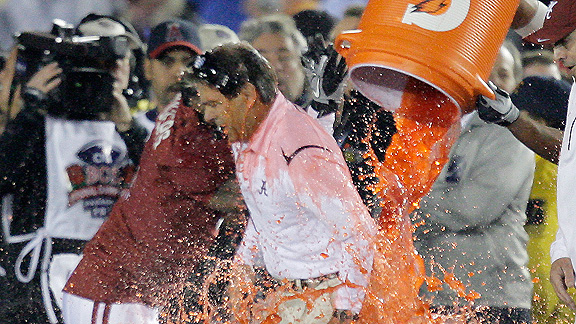 AP Photo/Jae C. HongAlabama coach Nick Saban was happy to win the title, but we're not so sure about getting doused.
How long will this go on?
In today's overprotective world, we pamper quarterbacks to the point that we'd like them to wear short dresses (but not so short that they violate the NFL dress code), but what about the poor coaches? Do we even attempt to protect them from being nearly drowned by ice-cold Gatorade? We do not! And are we aware that a coach may have died because of a Gatorade bath? (More on this later. It's what we call "a tease" in the biz.)
Did you see Nick Saban get doused after winning the mythical Big Boys Collegiate Football Championship? The Alabama coach clearly was not pleased, even though he's normally such a jolly guy. For one thing, it ruined that tight white shirt.
As for Saban, he said Friday that "the intensity of the dunk was the problem." Actually, he was lucky; there have been other coaches in the news recently that might have found an anvil in the Gatorade.
The alleged first Gatorade drenching was Oct. 28, 1985, when East Rutherford Giant Jim Burt poured a tub of Gatorade on Bill Parcells. Nobody knew what to think. Tony Kornheiser branded it a "public demeaning." Burt said on the "Joan Rivers Show" (Joan Rivers had a show? That must have been fun.) that "it's like when you were in school and used to pick on the chubby guys."
But the Gatorade was out of the barrel.
Here's some Gatorade-dunking trivia: What's unique about the dousing of Kentucky Wildcats coach Guy Morriss on Nov. 9, 2002? Answer: The Wildcats lost. It was called "The Bluegrass Miracle" when LSU won on a last-play Hail Mary pass seconds after Morriss got wet. Hard to take that back.
That would have been a good time to stop. Isn't this a little old? Seriously. Isn't it about time to celebrate victory some other way? Cream cheese? I'm just saying.
Oh, about the coach that may have been killed by Gatorade. You've heard of him. George Allen died in 1990 about one month after Long Beach State players drenched him. He had said that his health was not right since the dunking. See?
OK, it was ice water instead of Gatorade. And OK, he was 72, but still …