Last week, ESPN unveiled plans to launch a new 3-D network.
As this new technology remains to be seen, we can only wonder how wild it would have been to witness other memorable sports moments in eye-popping 3-D.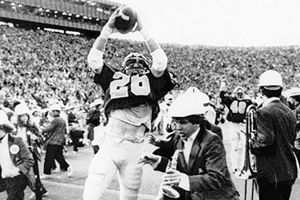 AP Photo/Oakland Tribune/Robert Stinnett"Oh, no! He won the game and crashed onto our coffee table!"
1. Stanford-Cal in "The Big Game"
You don't have to be a Stanford Tree or Cal Bear to get goose bumps while watching what became known simply as "The Play". Imagine you could watch -- scratch that, you could RELIVE -- that play from a first-person perspective.
Let's suppose the now ubiquitous Cyclops camera seen on football broadcasts everywhere was equipped with one of these modern 3D lenses and was hooked up and hovering over Cal's Memorial field that fateful November 20th afternoon in Berkley back in 1982.
This technology would make it seem as if you were on the field dodging Stanford band members from the comforts of your own living room.
Imagine your POV. Moen receives the kick, and, scrambling, he laterals it to Rodgers. He pitches to Garner, who dodges more tacklers before pitching it back to Rodgers. Just before going down, he somehow flips it to Ford, who blindly throws a lateral over his shoulder as he falls forward to an oncoming Moen. Of course, he finishes the play with a leap into the endzone and onto an unsuspecting Gary Tyrrell, a Stanford trombone player.
Also Consider: Boise State upset over Oklahoma in 2007 Fiesta Bowl. Instead of telestrators scratching outlines of these old-school plays, imagine experiencing the "Hook and Ladder" and "Statue of Liberty" first-hand in 3-D.
2. Janet Jackson's halftime performance in Super Bowl XL
Believe it or not the FCC is still trying extract $550,000 from CBS. We can only imagine how big the fallout would have been had it been broadcast in 3-D.
Also Consider: Streakers. The BCS title game was interrupted by one of these so-called "idiots." The announcement of ESPN 3-D must have been well-received by "Morgana the Kissing Bandits" types. At least the World Cup means this unfortunate side effect of 3-D technology will be shared the world over.