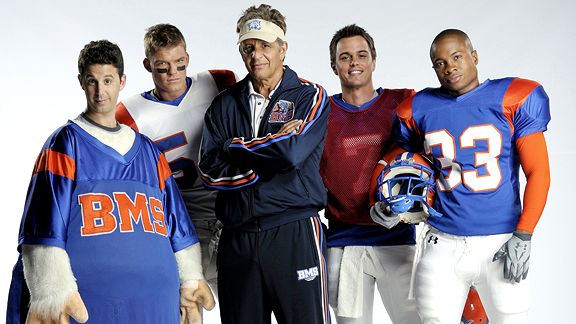 Courtesy of Spike TV"Blue Mountain State" is college football taken to new, debaucherous heights.
Former Heisman Trophy runner-up Ed Marinaro is not a fan of today's college football landscape. Well, actually, that's a bit of an understatement.
Marinaro, who's had a successful acting career with roles on "Laverne & Shirley" and "Hill Street Blues," describes the sport now as "bush league." Premeditated celebrations and first-quarter taunting seem to make him ill. Granted, he played 40 years ago at Cornell, but he still says he's worried about encouraging his son to play college football because "it's like a zoo, undignified and classless."
Which, as it turns out, are perfect adjectives for the new show in which he stars: "Blue Mountain State."
The show depicts a fictional college football powerhouse -- winners of 17 national titles, none of which were won legitimately. Marinaro is the unscrupulous head coach Marty Daniels, who's charged with leading some of the best athletes in the country that double as some of the most dubious, deranged party-goers this side of "Van Wilder."
After watching "Blue Mountain State" (airing Tuesdays on Spike at 10 pm) I must report that this is not a sports show.
It's not a comedic turn of "Playmakers," a college version of "SportsNite," an updated take on "Coach," or a TV adaptation of "Varsity Blues."
It is, however, an unforgiving half-hour of everything you tried to forget (or long to remember) about college. Every half-cooked story you ever heard about fraternity hazing rituals or 24-hour drug parties have finally found a home in "Blue Mountain State."
You know when you're watching a game and the star quarterback goes off for five touchdowns and 400 yards, and someone always jokes, "He's gonna get lucky tonight."
This show chronicles those nights.