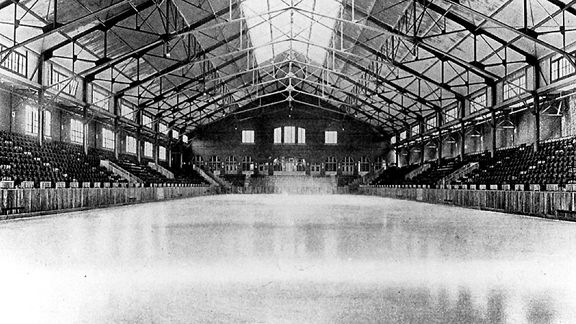 Photo courtesy Northeastern Sports InformationThe Northeastern hockey team's Matthews Arena is where the Bruins and Celtics first played.
Forget après-ski lounges and country inns. The coziest place on a frigid winter night is an old college hockey barn packed to the rafters with rabid fans.
From student sections chanting "Sieve" at opposing goalies to pep bands playing fight songs on frozen instruments to maniacal fans hurling invectives (and, sometimes, personal possessions) at hated rivals, college hockey's ancient arenas crackle with an energy as warming as a roaring fire.
America's most venerable collegiate rinks -- with their trophy-filled lobbies and walls lined with black-and-white team photographs -- put the "old" and "school" in "old-school."
Scoreboards in these arenas actually -- get this -- keep score instead of broadcasting tic-inducing video montages or annoying kiss cams. Plus, the intimate configurations of these rinks allow even fans in the cheap seats to feel close to the action.
As Northeastern University's Matthews Arena, the oldest artificial-ice arena in the world, prepares to celebrate its centennial on April 16, we offer a salute to the oldest barns in men's Division I college hockey (based on information provided by the 58 Division I programs).