Who was cooler: Joe Montana or Abe Lincoln? Marcus Allen or Ulysses S. Grant? Larry Csonka or Martin Van Buren?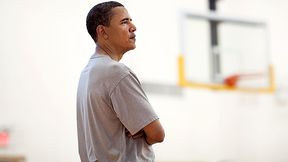 Pete Souza/White House/Getty Images
Those are among the questions posed, sort of, by the America Bowl, a blog based on an ingeniously simple premise: Barack Obama is our 44th president, and we're about to have our 44th Super Bowl. These two numbers have never converged before and will never do so again. So as the America Bowl home page asks, "Which have been better? Our Super Bowl games? Or our presidents? Finally, we can find out!"
The guy behind all this, Don Steinberg (who writes about boxing for ESPN.com), began matching up the games against the presidents -- Super Bowl I versus George Washington, Super Bowl II versus John Adams, and so on -- 44 days before this year's big game, and has been adding a new theoretical smackdown to the site each day. As of Tuesday (Grover Cleveland versus Super Bowl XXIV), the presidents are beating the Super Bowls, 13-11, although some of Steinberg's "analysis" is a bit fuzzy. Zachary Taylor, for example, was in office for only 16 months before dying of gastroenteritis, but Steinberg still gives him the nod over Super Bowl XII (Cowboys 27, Broncos 10) because, as he puts it, "If you could live through either another Taylor presidency or another Cowboys Super Bowl blowout, which would you choose?" Actually, maybe that logic isn't so fuzzy after all.
In any case, Steinberg is barely halfway through the Super Bowl and presidential timelines, and some interesting battles loom ahead. Dwight Eisenhower, the 34th president, is generally considered to have been an effective chief executive, but he faces a stiff challenge in Super Bowl XXXIV (Ram 23, Titans 16, with Kevin Dyson stopped just shy of the goal line as time ran out). At the other end of the spectrum, Warren G. Harding is usually ranked among the worst presidents ever, but he's up against Super Bowl XXIX (49ers 49, Chargers 26), which was arguably even worse than the Teapot Dome scandal.
As for the Lincoln/Montana matchup, Steinberg is succinct: "San Francisco's 20-0 halftime lead [in Super Bowl XVI] was the largest shutout lead at halftime in Super Bowl history -- but it didn't deliver The Gettysburg Address." Advantage to the Great Emancipator.