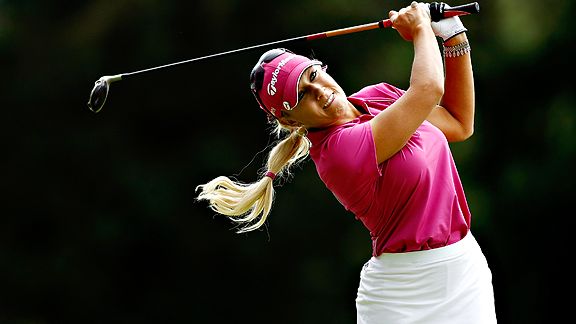 Jonathan Ferrey/Getty ImagesNatalie Gulbis will be appearing on an upcoming episode of "CSI: Crime Scene Investigation."
Apparently there is a real shortage of actors who can swing a golf club convincingly, as Thursday night's "CSI: Crime Scene Investigation" will feature three pro golfers portraying themselves. The episode is entitled "Long Ball" and involves the discovery of the dead body of a legendary golfer. (Insert your own inappropriate Tiger Woods joke here.)
No, Tiger Woods is not on the show. But these golfers are: Natalie Gulbis, Rocco Mediate and Duffy Waldorf. And that raised the question here at Page 2 about what other sports figures would be naturals as guest stars on TV programs.
• Serena and Venus Williams -- "Modern Family"
• Kobe Bryant -- "24"
• New York Knicks -- "CSI: NY"
• Tennessee Vols football fans -- "Pranked"
• Mark McGwire -- "Face the Nation"
• Tim Tebow -- "American Idol"
• Arena Football League -- "The Forgotten"
• St. Louis Rams, Detroit Lions -- "Law & Order: Special Victims Unit"
• Jerry Jones -- "Shark Tank"
• Mark Mangino -- "The Biggest Loser"
• Mariano Rivera -- "The Closer"
• Elin Woods -- "The Good Wife"