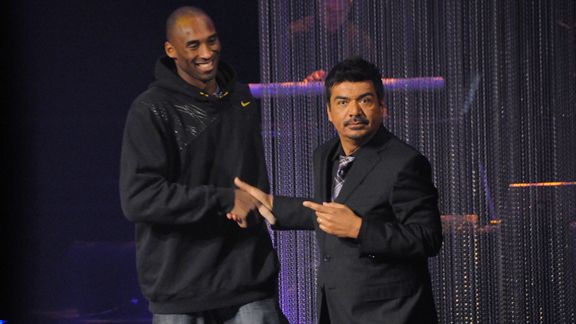 Andrew D. Bernstein/NBAE/Getty ImagesKobe Bryant is greeted by comedian George Lopez during the Kobe Bryant Zoom Kobe V shoe launch.
George Lopez enters the Ricardo Montalban Theatre in Hollywood as if he's preparing for a championship fight or an audition for the Rockettes. It isn't quite clear which one as he jumps up and down and throws a couple punches before kicking his right foot out and then his left. Lopez, wearing an all-black suit, is doing his best to show off his new kicks -- the Nike Zoom Kobe V.
Lopez is modeling his purple and gold low tops because he is taking a break from hosting "Lopez Tonight" to help his friend Kobe Bryant debut his new shoe.
"No questions about the late-night wars," his publicist warns the media assembled outside the theatre as Lopez continues to show off his shoes to the cameramen. "No questions about Jay Leno or Conan O'Brien."
Forget Leno or O'Brien, George. Kobe or LeBron, who you got?
"LeBron James is great but Kobe Bryant is the greatest basketball player," Lopez said. "Kobe is a four-time NBA champion, an MVP, 11-time All-Star. His credentials don't lie."
Lopez may be right, but he is admittedly biased. Bryant was one of the first guests on his talk show, and Lopez was Bryant's first choice to help him debut his shoe with an event called "Nike Live," which is basically an infomercial masquerading as a one-night talk show.