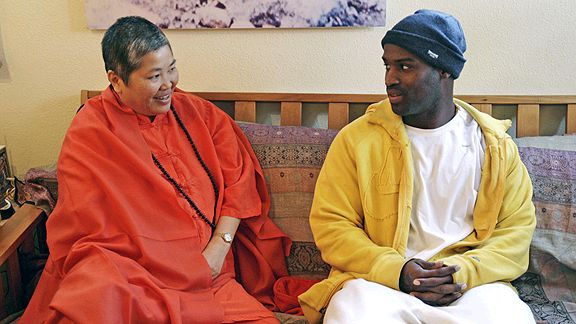 ESPN FilmsRicky Williams' hiatus from football is one of the focuses of a new '30 for 30' film by ESPN.
ESPN Films and its acclaimed "30 for 30" series will return this spring with eight films from a filmmaker roster that includes Ice Cube, Steve James, Dan Klores, Brett Morgen and more. Joining the lineup will be Sean Pamphilon's portrait of embattled Ricky Williams' hiatus from football in "Run Ricky Run". The slate begins with a presentation March 14 with "Winning Time: Reggie Miller vs. The New York Knicks". The schedule then gets underway in its regular Tuesday slot with "No Crossover: The Trial of Allen Iverson" on April 13.
The schedule:
Winning Time: Reggie Miller vs. The New York Knicks (March 14) -- Reggie Miller single-handedly crushed the hearts of Knick fans multiple times. But it was the 1995 Eastern Conference Finals which solidified Miller as "The Garden's Greatest Villain." With seconds to go in Game 1, and facing a seemingly insurmountable deficit of 105-99, Miller scored 8 points in 8.9 seconds to give his Indiana Pacers an astonishing victory. This career-defining performance, combined with his give-and-take with Knick fan Spike Lee, made Miller and the Knicks the spotlight story of the 1995 NBA post season. Award-winning director Dan Klores will explore how Miller proudly built his legend as the Big Apple's Public Enemy No. 1 to become the king of the New York streets.