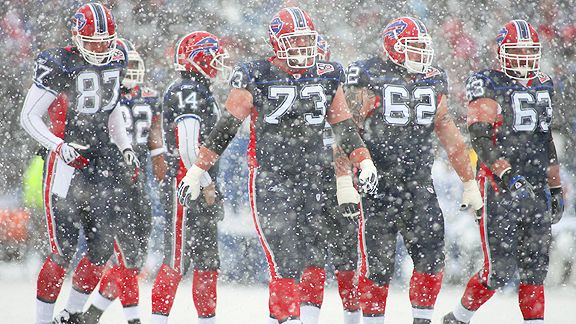 Rick Stewart/Getty ImagesIt just seems natural when the Bills play in the snow, right?
Los Angeles Bills.
There's just something wrong about that name. Maybe it's because "Buffalo Bill" has as much to do with Los Angeles as Bill Russell. Maybe it's because the Bills have resided in Buffalo, N.Y., for the past 50 seasons. Or maybe it's because Los Angeles hasn't had an NFL team for 15 years and the idea of having one simply seems foreign.
Whatever it may be, Majestic Realty, the group behind a proposed new NFL stadium in the City of Industry, has targeted the Buffalo Bills (and the Jacksonville Jaguars) for a move to Los Angeles, which means we might have to get used to hearing that name soon.
One person who won't have to get used to it, however, is John Mammoser.
Mammoser, a 50-year-old comedy writer in Los Angeles, founded the Los Angeles Bills Backers in 1989 after moving to Southern California from his hometown of Buffalo. In the beginning it was simply a way of meeting fellow transplants from western New York. They would meet up every Sunday and make a local watering hole a "Los Angeles Bills Bar." During the height of the Bills' success in the early 1990s, the group grew to be in the hundreds and started closing down bars around Los Angeles before finally settling on Busby's Sports Bar in Santa Monica.
"During the glory days when we lost four Super Bowls in a row we had over 200 people every week," Mammoser said. "As the years went by we began to advertise on Facebook and MySpace. I even got on Match.com and instead of looking up people to date I'd look up people from Buffalo and tell them to come. It was kind of weird sending an e-mail to a guy from Buffalo and saying, 'Hey, there's a new Bills bar here in Santa Monica you should check out. I'm straight by the way but you should check it out.' When we're doing good there's about 80 to 100 people but when we're losing, which has been the last several seasons, it has gotten smaller."