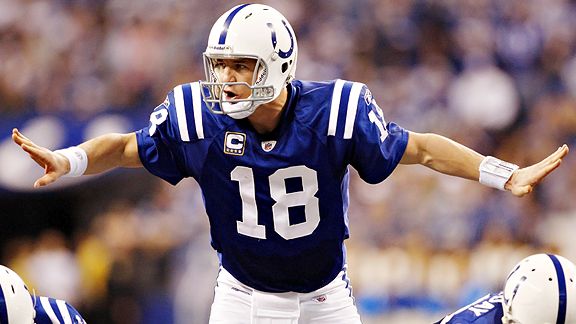 Jerry Lai/US PresswirePeyton Manning carved up the Jets in the simulation and real life.
This is freaky.
I'm a big Madden NFL 10 guy, playing pretty much every day from August to today. But I never run simulations to see the results.
But check this out: This weekend ESPN video game editor Jon Robinson ran a simulation of the Indianapolis Colts vs. the New York Jets through EA Sports Madden NFL 10 game engine in a CPU vs. CPU format.
Here's Robinson's lead:
"Depending on whom you ask, this is either going to be the biggest upset or the biggest blowout of the week. Looks like 'Madden' is leaning more toward a blowout: The video game simulation shows Peyton Manning & Co. jumping out to a 17-7 halftime lead, then holding on for the 31-17 victory."
Granted, the halftime score was incorrect, but the final score was off by one point. The Colts advanced to the Super Bowl with a 30-17 victory.
In the NFC simulation, the three-point margin was correct and the score was slightly off. The real score was 31-28 Saints in overtime, while the simulation was 34-31 Saints. But the details were freaky.
Robinson said in the simulation, "Brees finished his amazing game completing 26 of 37 passes for 297 yards and three touchdowns." He actually finished with 197 yards and three touchdowns.