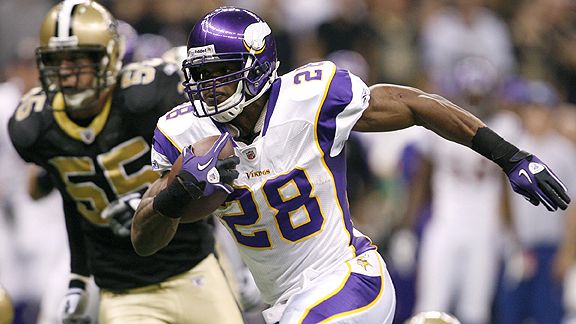 Matt Stamey/US PresswireDo Adrian Peterson and Brett Favre want to show up in Miami for the Pro Bowl?
"Oh, sorry, Mr. Favre. After that unfortunate interception, you didn't win our big prize. But we have some wonderful parting gifts, including an all-expense trip to Miami to play in the Pro Bowl! Congratulations because nobody leaves the NFL Championship Games as a loser!"
Two words describe the chances of Brett Favre playing in the Pro Bowl.
"Fat" and "Chance."
For the first time since 1980, the Pro Bowl will be played somewhere other than Honolulu. The annual contest between the AFC's and NFC's best will take place this Sunday (7:30 p.m. ET, ESPN), at Dolphin Stadium in South Florida.
Or, at least, some of the best.
No Indianapolis Colts or New Orleans Saints will be playing as they will be in Miami for the Super Bowl one week later. But those elected to the Pro Bowl squads are expected to show up Sunday to wave to the crowd.
Meanwhile, 10 Vikings are on the NFC's roster, led by Favre and RB Adrian Peterson. As badly as Favre was limping at the end of New Orleans' 31-28 OT victory, he actually has an excuse to be a Pro Bowl "no show." But what about Peterson, plus defensive end Jared Allen, kick returner Percy Harvin, guard Steve Hutchinson, tackle Bryant McKinnie, wide receiver Sidney Rice, defensive lineman Kevin Williams, cornerback Antoine Winfield and special teamer Heath Farwell?
Will they really want to travel to Miami to play in a game nobody cares about instead of being there for the Big Show? Well, Heath Farwell might.
Still, a Pro Bowl berth in the same city as the Super Bowl is an ironic consolation prize that has to hurt.
Oh, there are four New York Jets that get to be in the Pro Bowl instead of the Super Bowl. If they don't play, will anybody know?