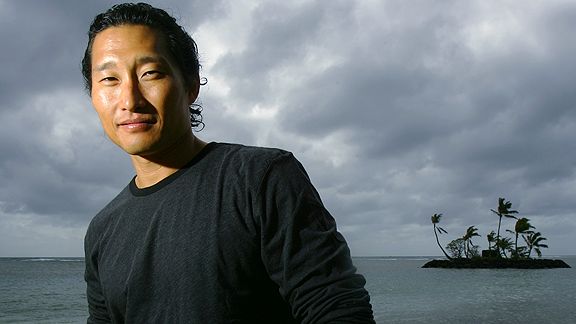 AP Photo/Jeff ChiuDaniel Dae Kim of "Lost" took his son to Wimbledon last summer to see Roger Federer play.
While the rest of the world -- at least that's the way it seems -- is waiting with baited breath about how the last season of ABC's "Lost" will end, you better believe Daniel Dae Kim is shaking in his cutoffs, waiting to see how the rest of the Australian Open will pan out.
Kim, who plays Jin-Soo Kwon on the head-scratching series, counts himself as a Roger Federer fan, and when he's not trying to survive the wilds of the jungle, he's likely got a tennis racket in his hands.
The series, which is shot in Hawaii and is about to air the two-hour premiere on Feb. 2, is such a hotly watched show that when President Obama toyed with the idea of delivering his State of the Union address on the same date, fans of the show aired their grievances loudly.
That has nothing on Kim's affection for tennis and the powerhouse swing of Federer. The 42-year-old actor was so impressed with the tennis ace that when his series was on hiatus this past summer he treated one of his sons to a real thrill.
"We just went to Wimbledon this summer, and it was his first grand slam," Kim said. "So it was really special watching him watch Federer."
If you're a Federer fan -- and Kim is -- it was a score, given that Kim and his family got to witness firsthand the historic fifth set in the final between Federer and Andy Roddick, the longest in Wimbledon history. To be sure, Kim and his boy were ecstatic that Federer collected his sixth Wimbledon title and a record 15th Grand Slam.
But that wasn't the best part of the match, which kicked off not too long after Father's Day weekend.
"He [my son] turned to me in the middle -- and he's a teenager now, so everything is too cool to him -- so he turned to me in the middle of the match, and says," Kim recalls, dropping his voice to a whisper, "'Dad, this is so cool!' And that made it all worth it. I felt like the best dad ever."