In the annals of bizarre fandom, the guy wearing peanut butter at a Georgia basketball game this week does little for our appetite. We can only hope he meets an orange-marmalade-wearing soul mate from Florida who turns him back to more traditional game attire.
Yet morbid fascination makes us wonder whether the excesses of painted torsos and dyed hair will soon be supplanted by a wave of liberally applied regional food products.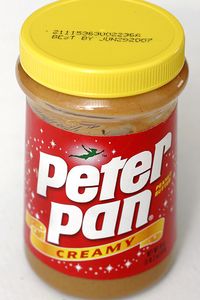 Bill Pugliano/Getty ImagesPeanut butter might turn out to be the tipping point of fanhood attire.
With that in mind, we did a simple test of three foodstuffs.
Flour
Attention, Kansas students, be doubly in tune while "waving the wheat."
Advantages: Easy to apply. Can go straight to the game from part-time job making pizzas. Adds magical poof when hands are clapped together. Odorless.
Disadvantages: Wears off easily and might need adhesive of some type for full-game effect (hair spray, anyone?). Does not hold up well to sweat.
Applesauce
Washington State fans can support the local economy and smell great heading through the gates for the Apple Cup.
Advantages: Comes in a variety of serving sizes and is naturally sweet, even without added sugar. Projects well when arms are flung in direction of rival fans (although difficult to aim).
Disadvantages: Slightly sticky, but does not adhere well to skin. Will be difficult to maintain look through entire game without fresh applications.
Honey
Utah fans can create buzz with a nod to the Beehive State's heritage.
Advantages: Feels good when applied to skin. Tastes great and has homeopathic healing powers.
Disadvantages: Extremely sticky. Likely to ooze downward throughout the game. Leaves gooey, unsavory residue on shirt.
Don't forget, there are condiments available at most concession stands if you have trouble getting past security.
Of course, we don't want to be sitting next to potato salad guy at a Boise State game in August or mayo man at a Memphis Grizzlies game (although both would go well with a meat dress).
If you've seen or participated in a unique display of fandom, we'd like to hear about it in the comments section.