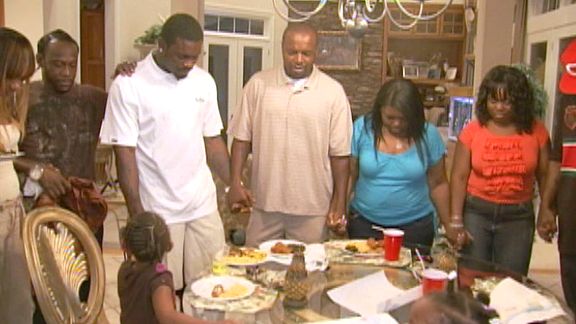 Courtesy of BETHere's a scene from a clip of the series about Michael Vick on BET.
America won't soon forget the horrible crimes committed against animals at the compound on Moonlight Road.
And it appears as though Michael Vick, the owner of that property and among the perpetrators of those crimes, wouldn't have it any other way.
On Tuesday, BET will unveil "The Michael Vick Project," a 10-part documentary series detailing the rise, fall and ongoing rehabilitation of the notorious NFL star. Produced, in part, by Vick's own MV7 Productions, the series is somber in tone and unflinching in its execution. An advance copy of the premiere episode examines Vick's past, from his rough childhood in Newport News, Va., to his 2007 felony conviction and up through his 23-month incarceration in federal prison in Leavenworth, Kan. In it, Vick is candid in discussing his failed attempt at living a "double life" -- by day, he was a gridiron star, father and caretaker of an extended family; by night, he was the financier and operator of an interstate dogfighting ring, in which underperforming animals were abused and executed.
In future episodes, cameras will follow Vick as he continues to deal with the repercussions of his actions, from the strain on his family to the near-collapse of a once-promising career, boldly bringing what could've been a deeply personal journey into the public eye. Some viewers will sit in judgment. Others will deem it community service. But this much is certain: Michael Vick's rehabilitation and, he can only hope, resurrection will be controversial, and it will be televised.
In an exclusive interview, Vick spoke about his divisive project and what might lie on the road ahead.
What's your reasoning behind "The Michael Vick Project"? Why do this?
I just wanted the world to know exactly what happened, the truth, my past and present experiences and how I plan on moving forward with my life as a father, as a son, as a brother and as an uncle. I plan on staying true to my family and true to my obligations with the Humane Society. We've been working diligently in the communities to tackle these problems. I just want people to see what I'm doing. That way, I don't have to talk about it anymore.