The Vince Lombardi Trophy is priceless, right?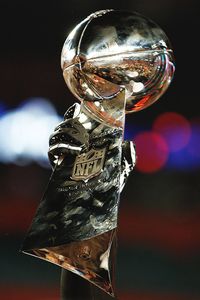 Chris Graythen/Getty Images
Don't be so sure. Cash4Gold has estimated that if the hallowed hardware were melted down, it would be worth $1,450 based upon the current price of silver.
Of course, this got us thinking about what we could buy if we ever got our hands on that kind of loot:
• A Super Bowl XLIV football and a Super Bowl XLIV champs helmet, both autographed by Peyton Manning, a customized No. 81 "Baskett" jersey, an "Own the Moment" Super Bowl XLIV license plate frame and three Super Bowl XLI champions pennants to remember happier times
• Seventy-nine copies of "Busted: The Rise and Fall of Art Schlichter"
• Fifty-eight Jeff George autographed rookie cards
• Pretty much as many tickets to the Pacers as you would ever want
• Approximately 285 tasty drinks at a drive-through daiquiri shop in Louisiana and a Peyton Manning waste basket in which to throw up