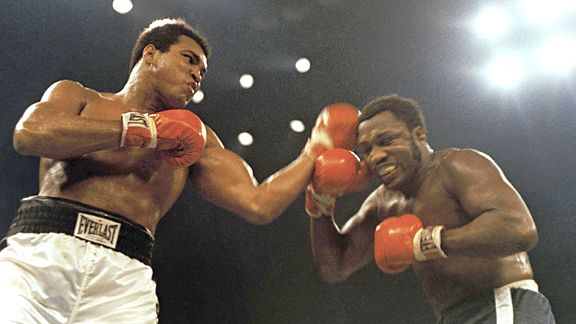 AP Photo
Larry Holmes is standing in the lobby of a posh hotel in Pasadena belting out an inaudible tune that is only recognizable to him as he laughs in between every other verse. He is making his way around a breakfast buffet table set up near the entrance, dancing as he picks at some fruit and muffins.
While Holmes is lost in his own world, Joe Frazier is being wheeled into the hotel in a wheelchair by his manager Leslie Wolf. Frazier, wearing a Cowboy hat, a gold chain and gripping a cane is slowly looking at his surroundings as he is taken closer to Holmes.
"Get up Joe!" Holmes yells to Frazier. "Stop messing around."
Frazier wishes he were messing around as he musters a laugh in between a cough after Holmes tells him to get up.
"Are you that sick?" Holmes asks Frazier. "Are you OK?"
"If I walk too long I get tired," says Frazier. "I'm old. We do what we got to do."
The man who took Ali to 14 rounds in the "Thrilla in Manila," 12 rounds in Madison Square Garden and beat him in 15 rounds in "The Fight of the Century" has a hard time standing up for more than 15 seconds before needing to sit down and catch his breath.
Holmes and Frazier can't remember the last time they saw each other but are brought together this morning for breakfast to talk about the man who has defined the careers of every fighter he ever faced -- Muhammad Ali. The former world heavyweight champions are two of the ten Ali rivals featured in the award-winning documentary, "Facing Ali," which makes its world television premiere Feb. 15 on Spike TV.